Cancelled - The Modern Technology Tsunami: How to Think About It. How to Benefit From It. How to Survive It.
---
THIS EVENT HAS BEEN CANCELLED
---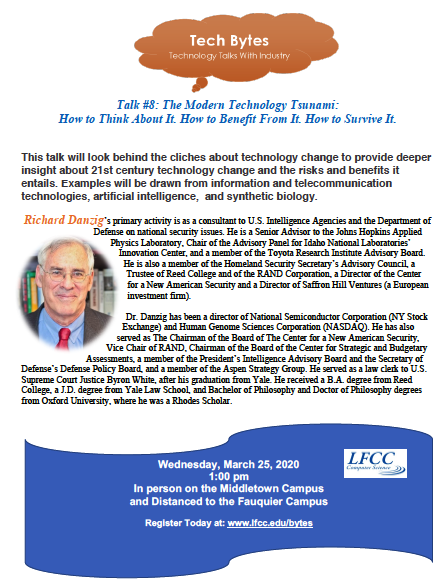 This talk will look behind the cliches about technology change to provide deeper insight about 21st century technology change and the risks and benefits it entails. Examples will be drawn from information and telecommunication technologies, artificial intelligence, and synthetic biology.
---
Date and Time
Location
Hosts
Registration
---
Date: 25 Mar 2020
Time: 01:00 PM to 02:30 PM
All times are (UTC-05:00) Eastern Time (US & Canada)
Add Event to Calendar
Co-sponsored by

Lord Fairfax Commuity College
---
Speakers
Alternative Bio: https://en.wikipedia.org/wiki/Richard_Danzig
Biography:
RICHARD DANZIG is a Senior Advisor to the Johns Hopkins Applied
Physics Laboratory, a consultant to the Intelligence Advanced
Research Projects Activity (IARPA), Chair of the Advisory Panel for
Idaho National Laboratories' Innovation Center, and a member of the
Toyota Research Institute Advisory Board. He is also a member of the
Defense Policy Board, The President's Intelligence Advisory Board,
and the Homeland Security Secretary's Advisory Council, a Trustee of
Reed College and of the RAND Corporation, a Director of the Center
for a New American Security and a Director of Saffron Hill Ventures (a
European investment firm).

In recent time he has been a director of National Semiconductor
Corporation (NY Stock Exchange) and Human Genome Sciences Corporation (NASDAQ). He has
also served as The Chairman of the Board of The Center for a New American Security, Vice Chair
of RAND, and Chairman of the Board of the Center for Strategic and Budgetary Assessments.
Dr. Danzig served as the 71st Secretary of the Navy from November 1998 to January 2001. He
was the Under Secretary of the Navy between 1993 and 1997. From the spring of 2007 through the
Presidential election of 2008, Dr. Danzig was a senior advisor to Senator Obama on national
security issues.

Dr. Danzig is a member of the Aspen Strategy Group and has served in recent years as a
consultant to the Departments of Defense and Homeland Security on national security issues.
Dr. Danzig was born in New York City in 1944. He received a B.A. degree from Reed College, a
J.D. degree from Yale Law School, and Bachelor of Philosophy and Doctor of Philosophy degrees
from Oxford University, where he was a Rhodes Scholar. Upon his graduation from Yale, Dr.
Danzig served as a law clerk to U.S. Supreme Court Justice Byron White.
---
Agenda
Welcome
Introduction
Presentation
Q&A
Adjournment
---
In person meeting at LFCC Middletown Campus, Fairfax Hall, Room 300. Streamed to Fauquier Campus, Room 107
---