Introduction to Embedded Systems (part 2)
---
THIS EVENT HAS BEEN CANCELLED
---
Introduction to Embedded Systems (part 2)
---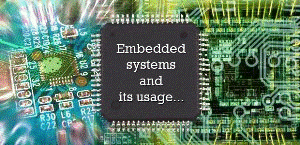 This is a prelude to the Embedded Systems Workshop 2021 (see this link for more details).
An introductory overview in two parts for those who wish to enter this field and also obtain maximum knowledge gain when you attend the ESW 2021 event. Some knowledge of engineering, computer programming and domain knowledge is expected.
All those who attend and complete both parts of this, can register to attend ESW 2021
---
Date and Time
Location
Hosts
Registration
---
Date: 09 Oct 2021
Time: 08:00 AM to 10:00 AM
All times are US/Eastern
Add Event to Calendar
Virtual using Webex
Rochester, Michigan
United States 48309-4479

Building:

Online Session
This is an online only event. Link will be mailed 2 hours prior to event


Co-sponsored by

Subra Ganesan
---
Speakers

Sharan Kalwani
Topic:
Introduction to Embedded Systems (part 2)
Biography:
Sharan Kalwani is an industry technology specialist with 25+ years of experience. Sharan has degrees in both Engineering and Computer Science. He has worked in many diverse areas. He is a sought after speaker at many a diverse conference and seminars, such as Supercomputing, HPC Advisory Council, SIAM, Infiniband Trade Association, etc. He has delivered several tutorials, workshops and chaired Birds-of-a-Feather (BoF) sessions. Sharan is a senior member of IEEE-Computer Society, IEEE-Education Society and Vehicle Tech Society, an Emeritus member of Michigan!UNIX/user group (mug.org) the oldest of the *nix user groups based in Michigan (they were first established in late 1985), member of Association for Computing Machinery (ACM) and also leads the SIG-Linux section of SEMCO. He enjoys teaching, holds an Adjunct Faculty position at local educational sites. He has published one book "Linux and Internet Security" and is now working on his second text, about a new computer programming language. He is a recepient of the IEEE MGA Achievement award for his contributions to IEEE activies in 2018.
Address:Michigan, United States
---
Agenda
Agenda details to be posted

---
A SE Michigan Computer Society+Education Society Chapters Joint Event
---