IEEE 5G Summit R6 Students United
---
http://5gsummit.org/ieeeunited/
---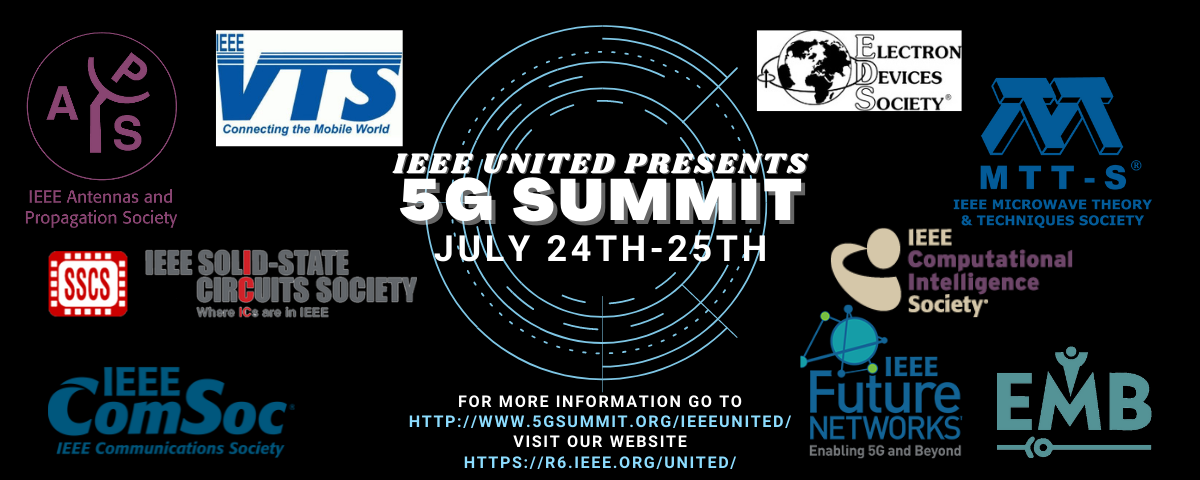 IEEE 5G Summit R6 Students United
This IEEE 5G Student Summit 2021 by IEEE United SIG student group will provide a unique forum to students, professionals, and user communities to be informed about emerging technologies and use cases in 5G and beyond.
WEBEX LOG-IN INFO
SUNDAY
---
Date and Time
Location
Hosts
Registration
---
Start time: 24 Jul 2021 07:55 AM
End time: 25 Jul 2021 02:00 PM
All times are (UTC-08:00) Pacific Time (US & Canada)
Add Event to Calendar
If you are not a robot, please complete the ReCAPTCHA to display virtual attendance info.

http://5gsummit.org/ieeeunited/#committee

Co-sponsored by

ncbernar@uci.edu
Starts 26 June 2021 09:16 AM
Ends 31 August 2021 04:16 PM
All times are (UTC-08:00) Pacific Time (US & Canada)
No Admission Charge
---
Speakers

Siavash Alamouti
of Wells Fargo Bank
Topic:
My professional life Journey: From Invention of Alamouti Code to Wells Fargo
EVP, Head of R&D, Wells Fargo, San Francisco, CA
Biography:
Keynote 1: My professional life Journey: From Invention of Alamouti Code to Wells Fargo
Siavash Alamouti is the EVP of Innovation R&D at Wells Fargo and the Executive Chairman at mimik. He was the President & CEO of mimik from January 2014 until January 2020. Prior to mimik he was the Group R&D Director for Vodafone in London, UK where he managed R&D, corporate venture and IPR for the entire group. Before Vodafone, he was an Intel Fellow and CTO of The Mobile Wireless Group in Santa Clara, California. Prior to Intel he was the CTO at the start-up company Vivato (the first smart antenna Wi-Fi company) and before Vivato, he worked in various capacities at Cadence Design Systems, AT&T Wireless, and MPR Teltech.
He is most well-known for the invention of the Alamouti code adopted in almost all wireless standards globally and included in billions of wireless devices. He has received more than 20.000 citations for his scientific work and has received multiple industry awards. Siavash's 1998 paper in IEEE JSAC Publication was selected by IEEE Communication Society for publication in, "The Best of the Best: Fifty Years of Communications and Networking Research."
Siavash has been the leading champion for ground-breaking and highly impactful technologies such as Hybrid Edge Cloud, OFDM/MIMO, 4G, 5G cellular communications, WiFi and WiGig. He has contributed extensively to global telecommunication and internet standards, and has participated in lobbying for spectrum reform globally. Since 2014, he has been focused on edge cloud computing, cloud decentralisation and open internet. Siavash has a reputation for passionately pushing the industry to new limits of the technology for the benefit of mankind.
Siavash

received B.A.Sc and the M.A.Sc. degrees in electrical engineering from the University of British Columbia, Vancouver, Canada, in 1989 and 1991, respectively.
Tutorials by Byung K. (BK) Ex #lge #interdigital Yi

DARPA
Topic:
Keynote Visionary Chat of Open Source ecosystems in Telecom
Dr. Tom Rondeau, DARPA STO;
Dr. Jonathan JMS Smith, DARPA I2O
Biography:
Keynote Visionary Chat of Open source ecosystems in Telecom
Dr. Tom Rondeau became a program manager in the Strategic Technology Office in May 2020, after serving as a program manager in the Microsystems Technology Office. His research interests include adaptive and reconfigurable radios, improving the development cycle for new signal-processing techniques, and creating general purpose electromagnetic systems.
Prior to joining DARPA, Dr. Rondeau was the maintainer and lead developer of the GNU Radio project and a consultant on signal processing and wireless communications. He worked as a visiting researcher with the University of Pennsylvania and as an Adjunct with the IDA Center for Communications Research in Princeton, NJ. In these roles, he helped push forward architectures and algorithms in signal processing for communications, signal analysis, and spectrum monitoring and usage.
Dr. Rondeau is active in many conferences and workshops around the world to help further research and technology in these areas, and he has consulted with many companies and government organizations on new techniques in wireless signal processing. He has published widely in the fields of wireless communications, software radio, and cognitive radio. Dr. Rondeau holds a Ph.D. in electrical engineering from Virginia Tech and won the 2007 Outstanding Dissertation Award in math, science, and engineering from the Council of Graduate Schools for his work in artificial intelligence in wireless communications.
Dr. Jonathan M. Smith joined DARPA in September 2017 from the University of Pennsylvania, where he is a professor of computer and information science and the Olga and Alberico Pompa Professor of Engineering and Applied Science. As a DARPA program manager, Smith seeks to develop and execute programs in cybersecurity, networking, and distributed computing. Smith joined the University of Pennsylvania in 1989 from Bell Communications Research, where he was a member of the technical staff, a position he also held at Bell Telephone Laboratories.
Smith served as a program manager in DARPA's Information Processing Technology Office (IPTO) from 2004 to 2006, developing and executing programs including Situation Aware Protocols In Edge Network Technologies (SAPIENT), Adaptive Cognition Enhanced Radio Teams (ACERT), and Brood of Spectrum Supremacy (BOSS). Smith was awarded the Office of the Secretary of Defense Medal for Exceptional Public Service in August 2006.
---
Agenda
http://5gsummit.org/ieeeunited/#schedule
---