IEEE womens day
---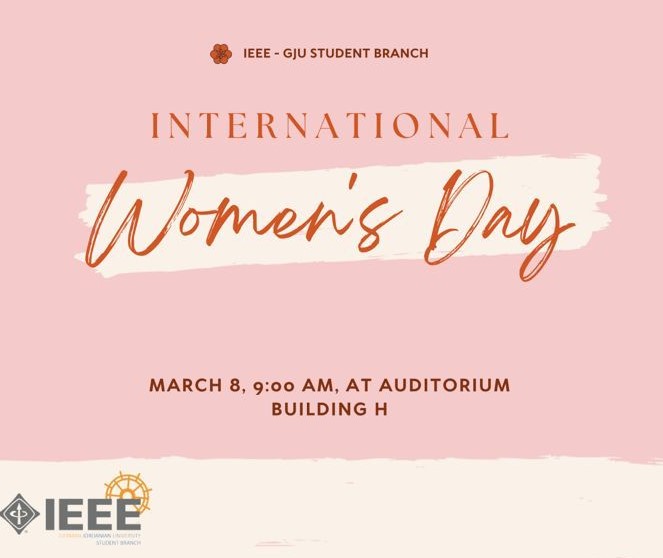 ---
Date and Time
Location
Hosts
Registration
---
Date: 08 Mar 2022
Time: 09:00 AM to 01:00 PM
All times are (GMT+02:00) Asia/Amman
Add Event to Calendar
Amman, Jordan
Jordan

Building:

H

Room Number:

Auditorium H behind the cafeteria
---
---
Speakers
Dr. Rana Dajani
Biography:
Rana Dajani is a Palestinian-Jordanian molecular biologist and tenured professor of biology and biotechnology at Hashemite University. She earned her Ph.D. in molecular biology from the University of Iowa. Dajani is an expert on genetics of Circassian and Chechen populations in Jordan, also on conducting genome-wide association studies on diabetes and cancer on stem cells. Her work in stem cell research initiated the development of the Stem Cell Research Ethics Law and all regulations in Jordan. She is an advocate for the biological evolution theory in relation to the religion of Islam, and believes strongly in the education and empowerment of women, being a member of the United Nations Women Jordan Advisory Council. She is the recipient of the Jordan's Order of Al Hussein for Distinguished Contributions of the Second Class.
Dajani is currently the 2019-21 Zuzana Simoniova Cmelikova Visiting Scholar at the Jepson School of Leadership Studies at the University of Richmond, and the president of the Society for Advancement of Science and Technology in the Arab World (SASTA). Dr. Dajani is a Fulbright scholar alumna, having received two awards. She was a fellow at the Radcliffe Institute for Advanced Study at Harvard University, and possessed an Eisenhower Fellowship as well. She is also a former Yale University visiting professor at the Yale Stem Cell Center and a visiting scholar at both the University of Cambridge and the Stem Cell Therapy Center in Jordan.
Dr. Dajani is the founder and director of the non-governmental organization, "We Love Reading," a program which strives to foster a love of reading in young children beyond academics in the Arab world. Through We Love Reading, she has trained over 7000 women to read aloud in Jordan, Lebanon and Syria and established multiple libraries across Jordan.
The UK-based Muslim Science Magazine praised her as one of the most influential women scientists in the Islamic World; and Arabian Business lists Dajani as one of "The World's 100 Most Powerful Arab Women," in which she ranked number thirteen.
Email:
Address:Amman
Dr. Abeer Bawab
Topic:
Physical chemistry
Biography:
Professor Abeer Al-Bawab is the General Director of the Scientific Research Support Fund (SRSF) of Jordan. She is passionate about great scientific leadership that drives research, innovation, positive transformation, and measurable results. She has more than 20 years of experience in academia spanning a broad array of research and development. Professor Abeer Al-Bawab has held Dean level position for the Deanship of Academic Research and Director level position for Hamdi Mango Center for Scientific Research at the university of Jordan. Along the way, she has developed and implemented lead development and management processes for various research teams of all sizes where she consistently transformed research organizations to achieve significant and measurable scientific contribution.
Professor Abeer Al-Bawab has worked closely with many leading international researchers to develop scientific research in physical chemistry. She also possesses a unique combination of academic and real-world expertise in research funding, including expertise in cross-cultural research collaboration and funding. She is the author of over 70 technical publications on topics related to physical chemistry. She also speaks frequently at international events.
Email:
---