How to Specify a Motor with the Smorgasbord of Standards (2 Night Session)
---
*Registration is Required
This is a two-night (Tuesday, March 28, 2023, and Wednesday, March 29, 2023) event from 5:00 PM to 8:30 PM.
---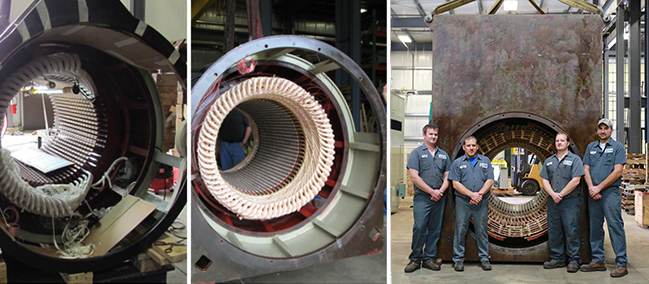 (Night 1) How to Specify a Motor with the Smorgasbord of Standards
How does today's process industry engineer even specify a motor with the plethora of industry standards from various standards development organizations around the globe? This presentation provides a basic overview of the issues that are essential in the decision process when purchasing a new motor and is directed toward the engineer who must specify motors but is not a motor specialist. Since project engineers are regularly expected to justify options selected and purchase recommendations, this presentation provides guidance. Process industry motor standards are used in the review of motor requirements and options available today.
(Nigh 2) Intro. to IEEE 841-2020 Severe Duty Squirrel Cage Motors - Up to and Including 370 KW (500 HP)
IEEE 841-2020 IEEE Standard for Petroleum and Chemical Industry – Premium Efficiency Severe Duty, Totally Enclosed (TEFC) Squirrel-Cage Induction Motors - Up to and Including 370 Kilowatt (KW) (500 Horsepower (HP)), to be issued in 2020 has been updated and improved from the 2009 version. The standard covers three-phase premium efficiency severe duty TEFC squirrel-cage induction motors with antifriction bearings in sizes up to and including 370 kW (500 hp). Important changes and updates have been made to the standard, including the addition of some applications for ASD motors in classified locations. Improvements to the standard are reviewed in detail. Requirements are identified that improve motor reliability and increase motor life.
---
Date and Time
Location
Hosts
Registration
---
Start time: 28 Mar 2023 05:00 PM
End time: 29 Mar 2023 08:15 PM
All times are (UTC-06:00) Central Time (US & Canada)
Add Event to Calendar
5850 Rogerdale Rd
Suite #150
Houston, Texas
United States 77072

Building:

SCHWEITZER ENGINEERING LABORATORIES (SEL)
---
Starts 13 March 2023 08:00 PM
Ends 27 March 2023 12:00 PM
All times are (UTC-06:00) Central Time (US & Canada)
Admission fee

?

Menu: Vegetarian Meal Only, Non Vegetarian Meal
---
Speakers
Biography:
Donald G. Dunn (S'87-M'91-SM'99-F'22) Mr. Dunn is a Senior Consultant with WS Nelson providing services to the Refining, Chemical, and various other industries. He has held engineering and management positions at several major refining and chemical companies during his over a 25-year career. He is currently a Fellow member of the IEEE and the ISA. He is a member of the IEEE, ISA, NFPA, API, and IEC standards development organizations. He co-chairs ISA18, chairs IEEE 841 & 841.1, and is the convener of IEC62682. Mr. Dunn served as the IEEE Houston Section chairman in 2001, 2002, 2006, 2011-2012, Vice President for the ISA Standards and Practices Board in 2011-2012, chairman of the IEEE IAS Petroleum and Chemical Industry Committee (PCIC) 2012-2014 and chairman of the API Subcommittee on Electrical Equipment 2012-2015. In 2015, he was elected to serve a three-year term on the ISA Board of Directors and is the past chairman of the PCIC A&A subcommittee.
---
Agenda
5:00 PM: Pre-Registered Check-In (Confirmed Registration)
5:15 PM: Platted Dinner Served with Confirmed Registration
6:00 PM: Announcements & Introduction of Presenter
7:15 PM: Break
7:30 PM: Session Re-Start
8:15 PM: Closing Remarks
---
*Your PAID Registration covers the following:
- 2x Dinners (Please confirm if a Vegetarian Meal is Required)
- 1x Digital Copy of the Presentation to all registered attendees.
- 1x (5 PDH) Certificate Signed by Resident PE
Note: Printed copies will be available for advance purchases only.
---