Region 6 Central Area Spring Meeting
---
Student competitions -- including MicroMouse & Pitch Project/Poster-- will be held.
---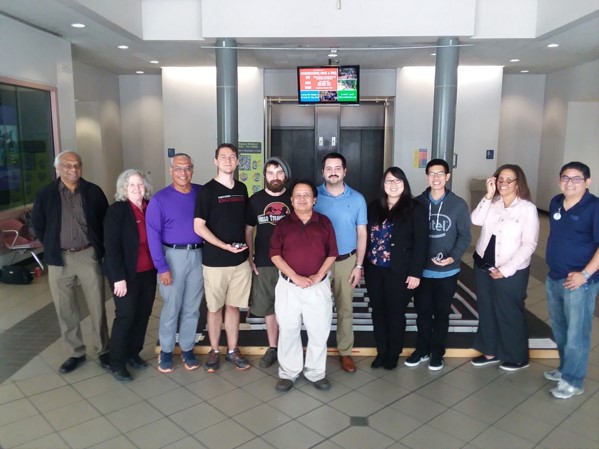 The Region 6 Central Area Spring 2018 meeting will be held on campus on SJSU on Saturday April 21st from 8:30AM to 4PM. There are two major programs in the 1-day meeting: one for the section officers and another for the students. The IEEE Region 6 Central Area consists of the central and northern California, northern Nevada and Hawaii sections, subsection, and student branches.
Each section and subsection should send at least one delegate to the Central Area Meeting. This is usually the chair. While there is only 1 delegate whose travel may be covered, you are encouraged to send as many volunteer leaders who your section might benefit from sending.
Each student branch in the area should send 2 student branch officers and their branch counselor (faculty advisor) would also be supported to attend. While travel support is limited to this number and to those with more than 50 miles to travel, additional students are welcome and encouraged. This event does include student competitions - Micro-mouse and Pitch - are also planned.
No hotel block is arranged. The Four Points by Sheraton San Jose Downtown is near the meeting and has rooms available at $109 (as of 3/19) for the night of April 10. http://www.fourpointssanjosedowntown.com
---
Date and Time
Location
Hosts
Registration
---
Date: 21 Apr 2018
Time: 08:30 AM to 04:00 PM
All times are US/Pacific
Add Event to Calendar
San Jose State University
1 Washington Square
San Jose, California
United States 95192

Building:

Engineering Bld, conf room 285-287
---
Starts 18 March 2018 04:42 PM
Ends 21 April 2018 11:42 PM
All times are US/Pacific
No Admission Charge
---
---
Agenda
Region 6 Spring Central Area Meeting April 21, 2018 at San Jose State University
AGENDA
8-8:30AM: Registration and continental breakfast
8:30AM to 9:00AM: Region 6 Director discussions including introductions & sections report
9:00AM to 9:30AM: Milestone and Section Awards by John B.
9:30AM to 12:15PM: Breakout Meetings for Sections & Student Branches
Section Leaders Students
9:30-10:00AM: PACE/Education by Mostafa M. Raising Star by Ramesh
10:00AM-10:30AM: Voting & Elections by Taylor W. ?
10:30-11:00AM: Director-Elect Talks Pitch/Design Contest
11:AM-11:15AM: BREAK BREAK
11:15AM-12:15PM: Training: SAMIEEE/vTools/Vitality Dashboard Pitch/Desoign Contest
12:15-1:15PM: Lunch Break
1:15-3:45PM: Micro-Mouse Competition
3:45-4:15PM: Awards and Closing
---