Belle Isle IEEE Milestone Re-dedication
---
---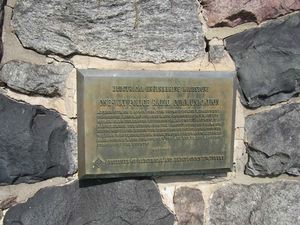 In 1928 the first radio broadcast to police car radios began at the police station on Belle Isle. The 9th IEEE Milestone was placed at the Belle Isle Detroit Police Station in 1987 to honor the first mobile communications systems broadcast in 1928. We are now preparing to celebrate the 90th anniversary of that achievement.
Commissioner William P. Rutledge of the Detroit Police department became intrigued by radio. He envisioned a fleet of automobiles that were linked by radio to police headquarters. Rutledge contacted his nephew, Bernard (Barney) Fitzgerald, an amateur radio operator with call sign (W8FS). Rutledge and Fitzgerald worked together to first prove the concept, then to spread the results to the Detroit police department patrol cars.
We celebrate this achievement with three core groups, The APCO (Association of Public-Safety Communications Officials), the IEEE (Institute of Electrical and Electronic Engineers) and ARRL (American Radio Relay League), the fraternal association of amateur radio operators.
Some may question; "Why the amateur radio operators?"
Part 97 of the FCC regulations contains the rules governing the Amateur Radio Service. It lists five "purposes" for the existence of amateur radio.Number one is providing emergency and public-service communications. Another is advancing skills in the technical and communication phases of the radio art. Both of these were expressed in the vision and contribution of the early radio amateurs who were at the heart of the accomplishment we celebrate here today.
We remember the people who first made this this significant technical achievement possible, and honor the 90th anniversary of their work. The use of mobile radio communications to enhance the safety and security all people began here. What they accomplished here were the first steps toward our current mobile communications systems. 50 years ago the IEEE placed a historical plaque at the Belle Isle police station building. Approximately 10 years ago the APCO ( https://www.apcointl.org/about-apco.html ) also supported the placement of a historical marker near the building.
Plans are in place for a member of the local IEEE Section, the APCO, and members of the Amateur Radio community ( http://www.arrl.org ) to visit to Belle Isle \between 10 AM and 4 PM on April 7th and to hold the re-dedication ceremonies for both plaques at 2 PM. (See http://ethw.org/Milestones:One-Way_Police_Radio_Communication,_1928.)
Bill Boyke (N8OZV) of the Ford Motor Company, Tin Lizzy Amateur Radio Club has registered special event Amateur Radio Station, 'K0P' (Kilo Zero Papa) with the FCC. We expect to see participation from several local Amateur Radio clubs in the form of operation of low power (QRP) emergency radio communication equipment and simple wire, loop or vertical antennas. All this equipment is small, easily portable and will be unobtrusive and completely removed at the end of the day. This will be a good opportunity for non 'Hams' to see what amateur radio is all about.
For the Amateur Radio Community, as you arrive, we have some organizational business to conduct:
Talk-in on the 2 Meter Wandotte Repeater: WY8DOT/R 147.240 MHz, +, 100 Hz Tone.
Once you arrive please switch to Simplex Frequency 146.52
We plan to operate "Station K0P" with multiple rigs and operating frequencies / Times / Modes / so we are developing a Scheduling system to maximize everyone's on-air time.
Collecting contact information for the QSL cards.
Please 'Sign-in' as you arrive, so we have a clear record of who was able to attend.
Driving Directions:
Entrance to the MacArthur Bridge to Belle Isle is at the junction of E. Jefferson Ave. and E. Grand Blvd. (The nearest Interstate highway junction appears to be the I-375 spur from the I-75, and E. Jefferson Ave.)
Note: Most major roads on the island are one way, so pay attention to the signs.
Cross the bridge, and stay to the right avoiding the construction.
As you enter Belle Isle proper, you are directed to the right onto Sunset Drive.
Stay to the left as Sunset Drive divides to become Casino Way. Stay left!
Turn left onto Central Ave.
Follow Central Ave. past Muse Road, Picnic Way and Fleming Street.
Approach the status of Major General Alpheus Starkey Williams (no relation) at the junction of Central Ave. and Inselruhe Ave.
Stay to the right of the statue, and circle to the left around the statue, effectively turning left onto Inselruhe Ave.
Inselruhe Ave.is a two way street, so traffic can approach from both directions!
Discover the old Belle Isle police station building immediately on your right. (GPS coordinates of 42.340419, -82.986598)
You are there!
Parking:
Since Inselruhe Ave. is a fairly narrow, two way street, parking there is to be avoided. If the police station parking lot is full (it is rather limited) please park along Riverbank Drive. (Note it is one way.)
There are 'over-flow' covered facilities both east and west of the police station along Riverbank Drive, so there should be room for everyone who can come.
The link below to a map gives a good overview of the entire island with all the roads.
http://www.michigan.gov/documents/dnr/belle_isle_map_color_461800_7.pdf
---
Date and Time
Location
Contact
Registration
---
Date: 07 Apr 2018
Time: 02:00 AM to 03:00 PM
All times are US/Eastern
Add Event to Calendar
Kimbaall Williams: N8FNC

313-355-4396
---
Speakers
Rich
of Association of Public-Safety Communications Officials
Topic:
Michigan State Plaque
APCO Sponsorship of State of Michigan Historical Plaque
Biography:
APCO Historical chair
Kim
of IEEE / ARRL
History and significance of the IEEE Milestone at Belle Isle, Michigan
Biography:
Retired Electromagnetic Compatibility engineer,
President Emeritus - IEEE EMC Society,
Certified Master EMC Design Engineer,
Amateur radio operator (N8FNC),
Scuba diver, Private pilot and
plays classical guitar in his 'spare time'.
Email:
Address:Dearborn, Michigan, United States
---
Agenda
10:00 AM Amateur Radio Clubs set up small emergency stations and operate.
2:00 PM Official Re-Dedication Ceremony (APCO / IEEE )
4:00 PM Close Amateur Radio stations for the day.
Clean up the grounds as we leave!
---
IEEE SEM Chapter 8 (EMC)
---