TEDx Conference in Derry NH June 2nd
---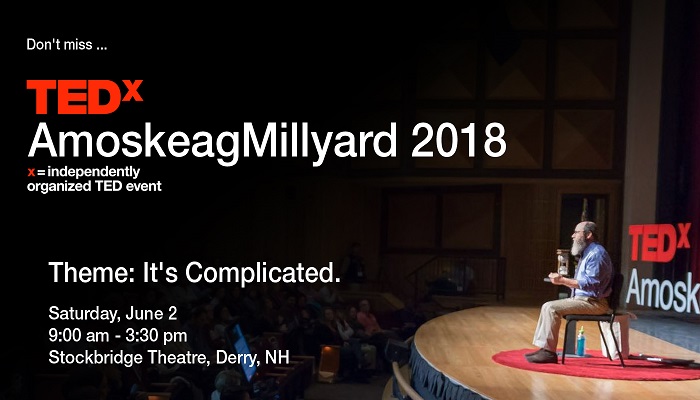 In the spirit of ideas worth spreading, TED has created a program called TEDx. TEDx is a program of local, self-organized events that bring people together to share a TED-like experience. The NH event is called TEDxAmoskeagMillyard.
This event will combine TED.com talks, and similar talks from local experts and presenters. Some will be technical, but as with TED talks in general, they will span Technology, Entertainment and Design. The speaker list is available, click here.
Registration for the event will be managed outside of IEEE by the TEDx organizers. The $35 per person cost (+$4 Eventbrite fee), includes lunch.
---
Date and Time
Location
Hosts
Registration
---
Date: 02 Jun 2018
Time: 09:00 AM to 03:39 PM
All times are (UTC-05:00) Eastern Time (US & Canada)
Add Event to Calendar
5 Pinkerton St
Derry, New Hampshire
United States 03038

Building:

Stockbridge Theater
---
https://tedxamoskeagmillyard.com/

Co-sponsored by

NH IEEE as a Community Partner
---
---
https://tedxamoskeagmillyard.com/
---