UCSD Extension & SDIEEE Blockchain HEALTHCARE Workshop
---
https://www.meetup.com/San-Diego-IEEE-Meetup/events/250327173/
http://www.sdieee.org/cgi-bin/WebObjects/ieee.woa/wo/26.0.3.9.5.1.0.25.1
---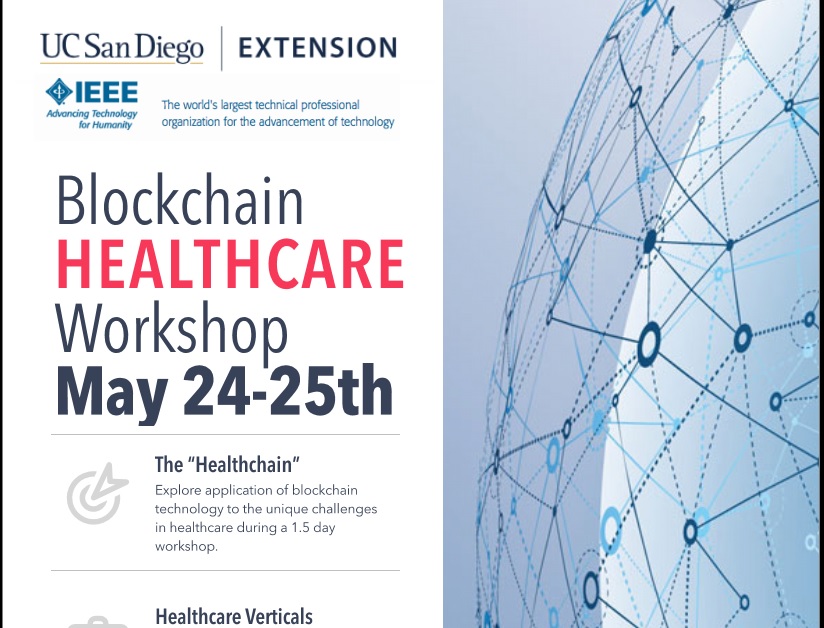 The first day of the workshop will consist of a diverse group of lectures from healthcare companies, blockchain startups, technology providers, researchers, incubators, and professional associations like IEEE.
The second half day will consist design workshops where attendees will actively participate in designing a blockchain solution around a healthcare vertical challenge.
Expert speakers presenting at the workshop include companies such as IBM, Intel, Qualcomm, Bayer Pharmaceuticals, LunaDNA, MintHealth and many others including participation by the U.S. Food and Drug Administration.
Satellite sessions and working groups will follow after the second half day of the workshop including: working group on blockchain educational and professional development, IEEE industry connections working group on clinical trials and supply chain, and IEEE San Diego chapter event.
The event will be held at 92121 May 24 - 25,
continental breakfast and lunch on Day 1 included.
May 24 8am - 5pm
May 25 8am - 1pm
---
Date and Time
Location
Hosts
Registration
---
Start time: 24 May 2018 08:00 AM
End time: 25 May 2018 01:00 PM
All times are US/Pacific
Add Event to Calendar
Green Acre Nautilus
3535 General Atomics Ct
San Diego, California
United States 92121

Building:

Buldg 3
Q&A upkar@ieee.org
Upkar Dhaliwal,
IEEE San Diego Section, Vice Chair, Publicity
IEEE San Diego EMB-S Chapter Chair
President, Future Wireless Technologies

Tim K. Mackey, Director and Associate Professor
UCSD - Extension / UCSD - School of Medicine
tmackey@ucsd.edu

Maria Palombini, Director
IEEE Standards Association

Co-sponsored by

EMB-S Chapter San Diego
---
---
Agenda
SEE FULL Program at
https://extension.ucsd.edu/UCSDExtension/media/UCSDExtensionsMedia/landing/blockchain/Blockchain-UCSD-4-24-18.pdf
Blockchain for healthcare 101
Do you need a blockchain?
Blockchain and healthcare workforce research
Essential design concepts
Regulatory and legal considerations for the health blockchain
Digital identity and health
Breakout design workshops (Day 2)
Join us for a one-and-a-half day educational workshop featuring a combination of lectures, use cases, applied skill learning, and panel discussions from leading experts focused on the potential for blockchain to transform healthcare.
This workshop is for anyone interested in exploring applications for blockchain technology in healthcare, including those working in the healthcare sector, technology companies in the healthcare space, entrepreneurs, business managers, legal professionals and the research community.
---
Early Bird $399 (by May 4, 2018) - $499 after May 4
IEEE + UC San Diego Affiliates - $399 with promo code: IEEEUCSDAFF
---