IEEE Standards: Industry Forum and Workshop
---
CO-HOSTED BY: Industry Relations Committee, PES-IAS and CAS-SSC Jt. Chapter at the IEEE Canadian Atlantic Section
---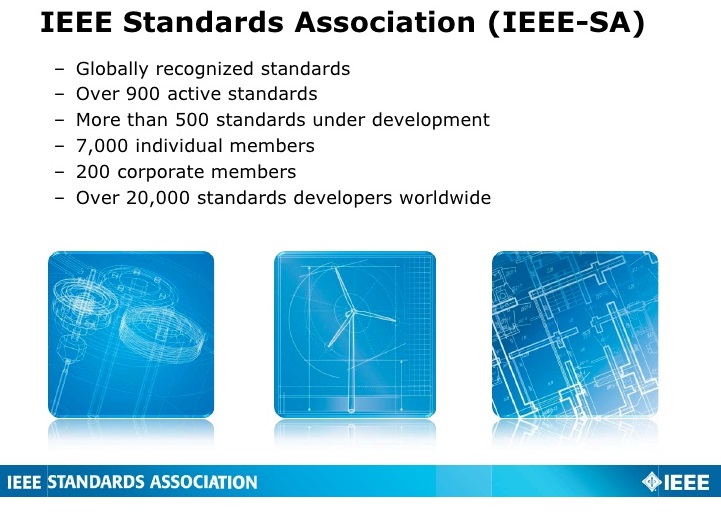 IEEE Canadian Atlantic Section (CAS) is pleased to bring an unique opportunity to learn more about IEEE standards. For the first time in Halifax, the IEEE Standards Association (IEEE SA) officials will make a stop in our city and meet the local professionals. If you are interested in getting involved (individual/corporate) with the stadard communities and want to contribute/network, this is your chance! The session will provide an overview on IEEE Standards Association, industry practices, ways to get involved in the standard development and working groups, and many more.
We will hold an exclusive session on few industry leading standards. Our guest speakers are:
1. Mary Lynne Nielsen, Global Operations and Outreach Program Director, IEEE Standards Association
2. Mark Siira, Chair, IEEE Standards Coordinating Committee
3. Jin Frazer, Chair, IEEE Smart City Planning and Technology Guide
Standards and topics to be covered:
1. IEEE Standards Association and Standards Development Process.
2. IEEE 1547: Standard for Interconnecting Distributed Resources with Electric Power Systems
3. IEEE 2030: Guide for Smart Grid Interoperability of Energy Technology and Information Technology Operation with the Electric Power System (EPS), and End-Use Applications and Loads
4. IEEE P2784: Guide for the Technology and Process Framework for Planning a Smart City.
5. The Future of IoT and Smart Grid
BOOK YOUR CALENDAR!
Date: November 6, 2018
Time: 12:00pm - 5:30pm
Location: Room # SB415, Sobey Building, Saint Mary's University, 923 Robie Street, Halifax
Seating Capacity: Maximum 30
Who Should Attend:
Regulators
Commission Staff
Utilities
DER Asset Owners
Equipment Vendors
Test Engineers
---
Date and Time
Location
Hosts
Registration
---
Date: 06 Nov 2018
Time: 12:00 PM to 05:30 PM
All times are (GMT-04:00) Canada/Atlantic
Add Event to Calendar
923 Robie Street
Halifax, Nova Scotia
Canada B3H 3C3

Building:

Sobey Building, Saint Mary's University

Room Number:

SB 415
---
Aminul Islam

Chair, IEEE Industry Relations, CAS

aislam@ieee.org

Co-sponsored by

Industry Relations Committe, PES-IAS and CAS-SSC Jt. Chapter at the IEEE Canadian Atlantic Section
Starts 07 September 2018 08:00 AM
Ends 05 November 2018 06:00 PM
All times are (GMT-04:00) Canada/Atlantic
Admission fee

?
---
Speakers

Mary Lynne Nielsen
of IEEE Standards Association
Topic:
Overview on IEEE Standards and Standards Association
Biography:
Mary Lynne Nielsen has worked in the technology standards field for over 25 years, supporting the creation of industry consensus at the IEEE Standards Association (IEEE-SA). Currently, she is the Global Operations and Outreach Program Director for the IEEE-SA, developing and leading effective coordination and collaboration for successful IEEE-SA outreach efforts with national, regional, and global organizations. Mary Lynne also supports the development of IEEE's programs focusing on the intersection of technology and policy.
As a leader for IEEE-SA's technology policy and international activities program, Mary Lynne provides thought leadership, planning, and execution of outreach programs that work with IEEE-SA functions, existing and new programs, and opportunities to increase the global presence of the IEEE-SA. Her particular geographic areas of focus are North, Central, and South America.
Mary Lynne also acts as a catalyst for collaboration within IEEE and between IEEE and others in advancing emerging and converging technologies and supporting multi-stakeholder discussions, serving as a speaker at and developer of multiple conferences. A graduate of Indiana University, Mary Lynne has also completed executive education at Cornell University. She is the recipient of an IEEE Computer Society Certificate of Appreciation as well as an Appreciation Award from the IEEE-SA Standards Board.
Email:
Address:New York, United States

Mark Siira
of Director of Utility Compliance & Solutions, ComRent International
Topic:
IEEE 1547 and IEEE 2030.5
Biography:
Mark Siira is the Director of Utility Compliance and Solutions for ComRent International, a leader in load testing solutions for critical facilities and utility-scale systems. Mark is responsible for technology strategy and external communication content.
Mark is a senior member of IEEE and currently active as a leader in several standards-making organizations as chair of IEEE Standards Coordinating Committee 21. In this role, he leads the development of all interconnection and interoperability standards for fuel cells, photovoltaics, dispersed generation, and energy storage. Concurrently, he is vice-chair for the IEEE 1547-2018 interconnection standard and is sub-group chair of IEEE P1547.1, installation evaluation and commissioning.
Mark is also an active participant in the IEEE Power Systems Relaying Committee, serving as vice-chair of committee K10, SCC21 Distributed Resources Standard Coordination, and is a contributor to IEEE C37.233 on protection system testing.
Mark is a member of the UL Standards Technical Panels 1741 (inverters), UL2200 (generators) and 6171 (wind farms interconnection), and he is sub-group chair of the EPRI Energy Storage Integration Council.
Mark has a Bachelor's degree in mechanical engineering from GMI Engineering and Management Institute (now Kettering University), and an MBA from Harvard Business School.
Address:New York, United States
---