Celebrating Hedy Lamarr: Actress/Inventor
---
Bombshell: The Hedy Lamarr Story

---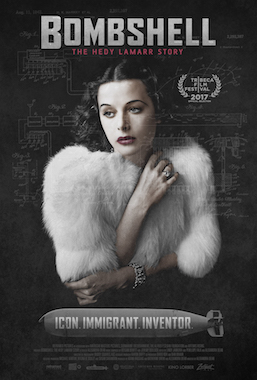 As part of an innovative and fresh approach, i.e. a non-traditional meeting event: we will present a PBS video documentary entitled: "Bombshell: The Hedy Lamarr Story". This talk will help celebrate Hedy Lamar, originally known as an actress but who actually was a brilliant inventor. Actress Hedy Lamarr (Hedy Kiesler Markey) became friends with avant-garde composer George Antheil in 1940. Lamarr, while working in Hollywood as an actress, had numerous other interests. Quite quickly, their conversations turned to more technical matters, specifically torpedoes.
Together they made an odd pair of weapons developers, but their backgrounds were full of experiences that provided inspiration for their innovations. Together, they developed their frequency hopping communications system.
In August 1942, they were granted a patent for a "Secret Communication System" that would reduce the danger of detection or jamming for radio-controlled torpedoes. Subsequent patents in frequency changing have referred to the Lamarr-Antheil patent as the basis of the field, and the concept lies behind the principal anti-jamming devices used today. Neither Lamarr nor Antheil ever received royalty payments for the commercialization of their patent.
Documentary: Bombshell: The Hedy Lamarr Story
Summary: Referred to onscreen as simply Bombshell, is a 2017 American biographical documentary film directed, written and co-edited by Alexandra Dean, about the life of actress and inventor Hedy Lamarr. It had its world premiere at the 2017 Tribeca Film Festival and released theatrically on November 24, 2017. The film was broadcast in the United States on the PBS biography series American Masters in May 2018.
---
Date and Time
Location
Contact
Registration
---
146 Library Drive
Oakland University
Rochester, Michigan
United States 48309-4479

Building:

Dodge Hall

Room Number:

DH 200
An event flyer is available here

Co-sponsored by

Subramaniam Ganesan
---
---
Agenda
5:00 PM - Welcome and Introductions, Chapter business update; Pizza, Salad and Soda Pop

5:15 PM - Documentary
6:45 PM - End of Documentary; Start of Q & A; Group Discussion

7:00 PM - Wrap Up
---
A Joint Oakland University/IEEE Computer Society/Education Society Chapters Presentation, open to all
---