IEEE Region 6, Southern Area Meeting
---
IEEE Region 6, Southern Area Meeting
---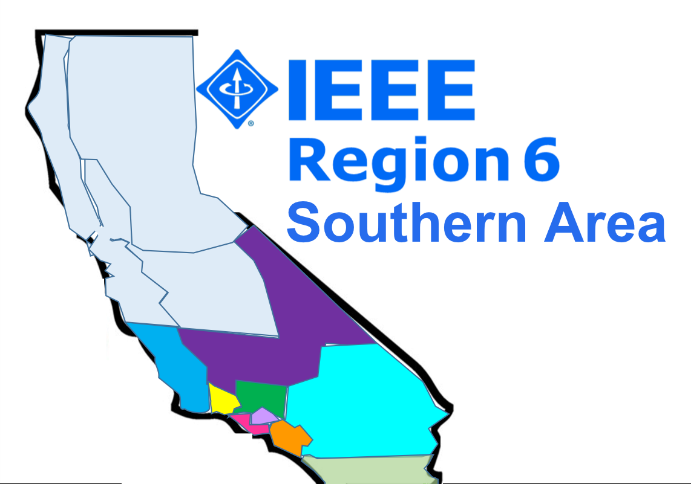 IEEE Region 6, Southern Area Meeting - at CSULB
Focus on Student and Section Officer Training for the Southern Area Sections and Branches. These are the Southern California sections, colleges and universities including: Buenaventura, Central Coast, China Lake/ Bakersfield, Coastal Los Angeles, Foothill/Inland Empire, Los Angeles Metropolitan, San Fernando Valley, and Orange County. San Diego and any other sections who are interested are welcome to join this meeting.
Directions to CSULB Parking Structure II which is close to Engineering and Computer Science (ECS) Building:

FROM 405 FREEWAY SOUTHBOUND
Exit from 405 Freeway at Palo Verde street in Long Beach, and continue South past two lights (Stearns and Atherton Streets). Go to the Parking Structure II on right.

FROM 405 FREEWAY NORTHBOUND / 22 FREEWAY WEST 605 FREEWAY SOUTH
Exit a 7th Street
Veer right onto the Studebaker exit offramp.
Go RIGHT (North) on Studebaker to Anaheim Road.
Turn LEFT (West) onto Anaheim Road to Palo Verde.
Turn Right (North) onto Palo Verde.
Keep going straight as the Parking Structure II on Left side.
Pay parking at Yellow booth. Walk to ECS building. Go up to the 3th floor and ECS 312.
---
Date and Time
Location
Contact
Registration
---
Date: 23 Mar 2019
Time: 08:30 AM to 04:00 PM
All times are America/Los_Angeles
Add Event to Calendar
1250 Bellflower Blvd, Long Beach, CA 90840
Los Angeles, California
United States 90045

Building:

Cal State Long Beach, ECS 312

Room Number:

ECS 312
---
Sevada Isayan, Southern Area Chair

secondary contact: Past Area Chair, Charlie Jackson c.jackson@ieee.org

Co-sponsored by

Region 6 Southern Area
Starts 09 February 2019 07:00 AM
Ends 18 March 2019 11:59 PM
All times are America/Los_Angeles
No Admission Charge
---
---
Agenda
Draft Agenda

9:00 9:30 Sign-in
9:30 10:00 Opening Remarks/ Round the room Introduction
10:00 10:30 Keith Moore - Region 6 Director
10:30 10:50 Student Branch Time-line
10:50 11:00 Break
11:00 11:20 Awards
11:20 11:40 Conferences- Rising Stars, GHTC, SusTech, IGESC
11:40 12:00 Education & Pace Activites
12:00 1:00 Lunch
1:00 1:30 e-Notice and doodle - Gora Datta
1:30 2:00 Voting and WebEx - Gora Datta
2:00 2:30 Finding Good Speakers - C Jackson
2:30 3:00 Chapter Officer Training
---
IEEE Region 6, Southern Area Meeting
---