MAPPING THE BRAIN BY APPLYING PSEUDORANDOMLY CODED PERIPHERAL NERVE STIMULATION
---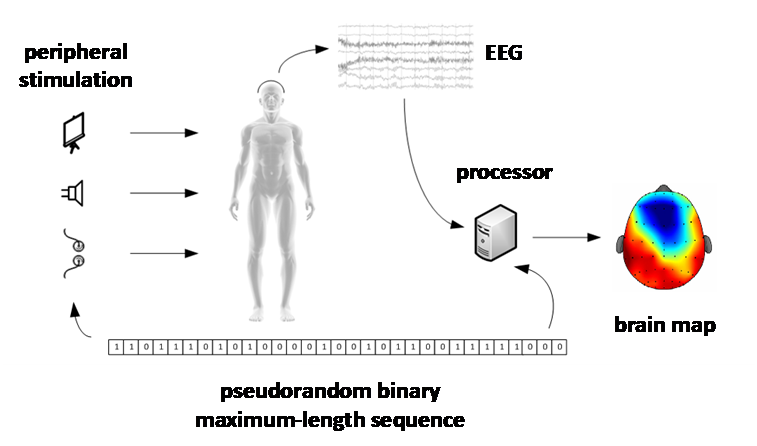 The IEEE Computer Society Chicago Section is proud to present Loyola University's Dr. Vincent Chen.
Clinical researchers have long considered the task of localizing real-time changes in the cortical areas that handle sensory signals a difficult one, primarily due to limitations of biomedical instrumentation. The electroencephalogram (EEG), despite providing excellent temporal resolution for monitoring real-time brain signals, can only offer very limited spatial resolution of brain activities. This makes it difficult to determine the origins of brain signals, which in turn makes it challenging to pinpoint the exact cortical areas that are actively functioning. In the proof of concept for this study, EEG signals acquired from a subject are segmented into appropriate epochs based on a pseudorandom binary sequence. During EEG acquisition, peripheral nerve stimulation synchronized with the same pseudorandom binary sequence is applied to the immediate surface of the subject's right median nerve, enabling us to perform calculations of autocorrelation values derived from the pseudorandom binary sequence and the power spectral density of the EEG epochs. Higher autocorrelation values provide greater certainty as to the origin of the brain signals. By utilizing features of this stochastic method, we can provide close to real-time brain maps that can accurately associate ever-changing cortical activities with indications of neuroplasticity. This innovation can be utilized as a groundbreaking tool for neurorehabilitation applications.
---
Date and Time
Location
Hosts
Registration
---
Date: 28 Feb 2019
Time: 06:45 PM to 08:00 PM
All times are America/Chicago
Add Event to Calendar
1111 W. 22nd Street
Oak Brook, Illinois
United States 60523

Building:

Lewis University at Oak Brook

Room Number:

Suite 700
---
Starts 24 January 2019 12:02 PM
Ends 28 February 2019 09:00 PM
All times are America/Chicago
No Admission Charge
---
Speakers
Dr. Vincent Chen
Biography:
Dr. Vincent Chen is an Assistant Professor of Biomedical Engineering at Loyola University Chicago with expertise in neuromodulation and rehabilitation engineering. Before joining Loyola Chicago, he worked as a postdoctoral fellow in the Department of Physical Medicine and Rehabilitation at Harvard Medical School and conducted clinical research at the Neuromodulation Center of Spaulding Rehabilitation Hospital in Boston. He received his B.S., M.S., and Ph.D. degrees in Electrical Engineering from National Taiwan University, and pursued a career in the tech industry while working on his graduate degrees. His experience in the tech industry and knowledge in the clinical rehabilitation field has enabled him to play a unique role in many research projects focusing on the development of neurorehabilitation devices. Dr. Chen's current research focuses on quantifying the extent of neuroplasticity induced by the application of brain and peripheral nerve stimulation. His key objective is to systematically investigate these unknown mechanisms individually and to apply them in clinical practice, i.e., by isolating each problem in order to identify and apply an optimal and targeted solution, with the ultimate goal of providing clinicians a better means to gain a more detailed understanding of specific neurological disorders, particularly those related to the brain. His other research interests relate to the field of rehabilitation engineering and in particular, the development of assistive and neuroprosthetic devices. He is an IEEE Senior Member and Secretary of the IEEE Chicago Section.
---