2019 IEEE SEM Spring Section Conference - "The Next Big Thing"
---
IEEE Southeastern Michigan Section
---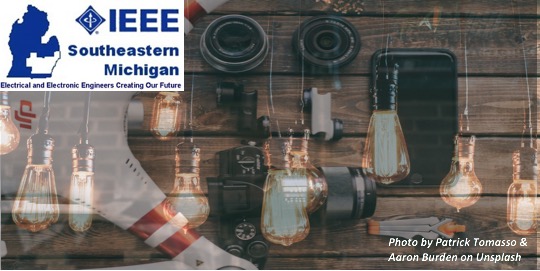 Keynote Speaker: Doug Patton, Denso International, Senior Technical Advisor
Keynote Speech: Sustaining the Next Big Thing in the Auto Industry
Venue: University of Michigan - Dearborn
This conference theme is purposely broad and will enable the discussion of new automotive, computing, communications, medicine, robotics, energy and smart city technologies.
---
Date and Time
Location
Contact
Registration
---
Date: 02 May 2019
Time: 04:00 PM to 09:00 PM
All times are US/Eastern
Add Event to Calendar
19000 Hubbard Dr
Dearborn, Michigan
United States 48126

Building:

U of M Dearborn - Fairlane Center North

Room Number:

See Agenda
---
Starts 04 March 2019 03:05 PM
Ends 02 May 2019 03:05 PM
All times are US/Eastern
Admission fee

?

Menu: Regular, Vegetarian, Gluten Free, None
---
Speakers

Doug Patten
of DENSO International America, Inc.
Topic:
Sustaining The Next Big Thing in the Automotive Industry
While everyone is moving past the automotive industry for the Next Big Thing the current ones have not succeeded yet. Things like automation and electrification still need big things to happen to be sustainable in broad market applications. As we look at the automotive space I will share what has maybe passed and what the Next Big Thing that are still needed.
Biography:
Doug Patton is Senior Technical advisor at DENSO International America, Inc. (DIAM), and senior director of DENSO Corp. Located at DENSO's North American headquarters in Southfield, Michigan, he provides input and support on all aspects of R&D in North America. In his previous position as Executive Vice President Engineering and CTO he oversaw all North American product engineering and development, campus facilities and operations including all testing and technical services, and Engineering Administration. He was responsible for climate control, engine components, and systems and components, engine electrical, safety products, cluster, in-vehicle-infotainment (IVI) and body electronics and small motor engineering.
Doug Patton earned a Bachelor of Science degree in Electrical Engineering in 1977 and a Master of Business Administration degree in 1984, both from Bradley University in Peoria, Illinois.
He serves as president of the DENSO Foundation Board, is on the Board of Directors for the Engineering Society of Detroit (currently past president), and is also a member of the SAE, where he was the 2017 president. He is also an Engineering Society of Detroit Fellow.
Doug Patton is a member of the Detroit Economic Club, Lawrence Technological University's College of Engineering Advisory Board, the Engineering Advisory Council of Kettering University and the Executive Leadership Team of the North American International Powertrain Conference.
Email:
Address:24777 Denso D, , Southfield, Michigan, United States, 48033
---
Agenda
Registration Fee Schedule:
Early Online Registration ends April 11
Special Request Meal Order Late Registration ends April 25
Day-Of / In-Person Registration Available - Credit Cards Only (No Cash or Checks)
Please register prior to the conference date of May 2.
Conference Attendee Fees: Early / Late
Students/Retired/Unemployed (Members).........$25 / $35
IEEE, SWE, and ESD Members ........................$45 / $60
Non Members ...............................................$60 / $80
Student Table Sponsor (8 students)..................$250
Silver Sponsorship Registration*.......................$500
Gold Sponsorship Registration*.........................$1000
Platinum Sponsorship Registration*...................$2000
Diamond Sponsorship Registration*...................$3000
MEETING AGENDA
TIME

SESSION

4:00PM

Welcome & Opening Remarks: L. Baczkowski (Conference Chair)

4:15 PM

Dr. Sarhan & Mr. Hamandi: Analysis of Deep Learning Accuracy in Computer Vision Systems

Dr. Ganesan: Predict the New Communication Bus for Future Vehicles

Dr. Jindal: Classification of Noisy Multidimensional Images using Deep Learning

5:15 PM

Dr. Ghose: The quantum computing revolution – and how we should approach it

Dr. Sarhan, Mr. Hani & Mr. Alhabsy: Towards Energy-Adapted Video Streaming

J. Dukarski: Artificial Intelligence and Machine Learning: Identifying Legal Risks in Design

6:00 PM

Dinner

6:30 PM

SEM IEEE Awards

7:00 PM

Conference Keynote: Doug Patton - "Sustaining the Next Big Thing in the Auto Industry"

7:50 PM

Closing Remarks: S. Kalwani (Conference Co-Chair)
Call for Posters
Abstract Submission: April 1
Acceptance Notice: By April 22 Free Registration for the Primary Poster Author
Conference Date: May 2, 2019
The suggested poster size is 4 feet by 3 feet, and should contain large text to be read from a distance. Poster authors should attend and present their posters during the Poster Session and Student Competition on the day of the conference. Free Registration for the Primary Poster Author (Please wait to get more information after submitting poster request). All the additional student authors for a particular poster needs to be registered as a Student Poster at the Registration link with a $25 Fee and every participant will receive a Certificate of Participation along with the top 3 winners of the competition.
---
IEEE Southeastern Michigan Section
---
Media
---