Arc Flash Protection - Arc Quenching Switchgear
---
Superior Protection – In a Flash
---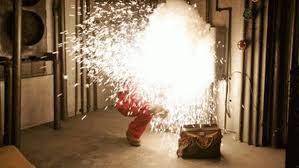 Learn about new technology to reduce incident energy, protect personnel and equipment, and reduce downtime.
Please join IEEE Industry Application Society in welcoming Cameron Clark to the Safari Room where he will share information regarding some of the latest developments in arc flash protection.
Arc Quenching Switchgear provides:
• Exceptional incident energy reduction – Reduces incident energy to less than 1.2 cal/cm2, far below methods that rely solely on a power circuit breaker to clear the fault. (For 480 V systems with 85,000 A of available fault current or less at a working distance of 18")
• Enhanced safety – Exceeds C37.20.7 arc-resistant testing requirements by demonstrating acceptance even when breakers are removed, doors are open and covers are removed - without the need for ducts, plenums or special construction
• Advanced equipment protection – Protects valuable switchgear assets from arc flash damage
• Dramatically reduced downtime – Switchgear can be quickly returned to service after an arc flash event
How Arc Quenching Switchgear works:
Arc Quenching Switchgear detects and contains an arc fault in less than 4 milliseconds, drastically reducing the incident energy. It works by detecting the ignition of an arc inside the switchgear using the Eaton Arc Flash Relay and transferring it to the Arc Quenching Device. Arc Quenching Switchgear transfers the arc by creating a lower-impedance arcing fault, not a bolted fault, safely contained inside the Arc Quenching Device. This reduces the peak fault current by at least 25% and puts less stress on upstream equipment during a quenching operation.
---
Date and Time
Location
Hosts
Registration
---
Date: 23 May 2019
Time: 05:30 PM to 08:00 PM
All times are (UTC-08:00) Pacific Time (US & Canada)
Add Event to Calendar
Safari Room at the Davenport Tower
111 South Post Street
Spokane, Washington
United States 99201

Room Number:

Private Dining Room
---
Starts 15 March 2019 12:33 PM
Ends 23 May 2019 04:30 PM
All times are (UTC-08:00) Pacific Time (US & Canada)
1 space left!
No Admission Charge
---
Speakers

Cameron Clark
of Eaton
Biography:
Mr. Clark is the Northwest District Application Engineer for Eaton's Electrical Sector business. His main responsibility is supporting and educating the design engineering community in the correct application of electrical distribution equipment, and developing electrical distribution systems to serve commercial and industrial facilities. He also educates the design community on new technology developments in the industry and strategies to apply these, to meet evolving code requirements and improve the safety of electrical distribution systems.

Mr. Clark has 34 years of experience in the electrical industry working for electrical distribution equipment manufacturing businesses. He has served in various roles within the electrical distribution products industry including Technical Sales, Marketing, and Technical Application. He has extensive experience with design of electrical distribution systems for different market segments including, Data Center, Commercial Construction, Institutional, Healthcare, Water / Waste Water, Industrial facilities, and utility applications.

Mr. Clark is a graduate of the University of Utah Electrical Engineering program. He is currently serving as Vice Chair of the Seattle chapter of the IEEE Industry Application Society, and is the treasurer and sits on the Board of Directors of the Electric League of the Pacific Northwest.
Email:
---
Agenda
5:30 – 6:00 Social time
6:00 Dinner order for attendees, purchase on own
6:15 Speaker begins presentation
7:15-7:30 Speaker concludes
7:30 Event concludes
Significant others and Students are welcome and encouraged to attend!
---