Senior Member Upgrade Event & Autonomous Vehicles Presentation
---
"How to Become an IEEE Senior Member" and "Autonomous Vehicles – Progress and Potential Socio-Economic Impacts"
---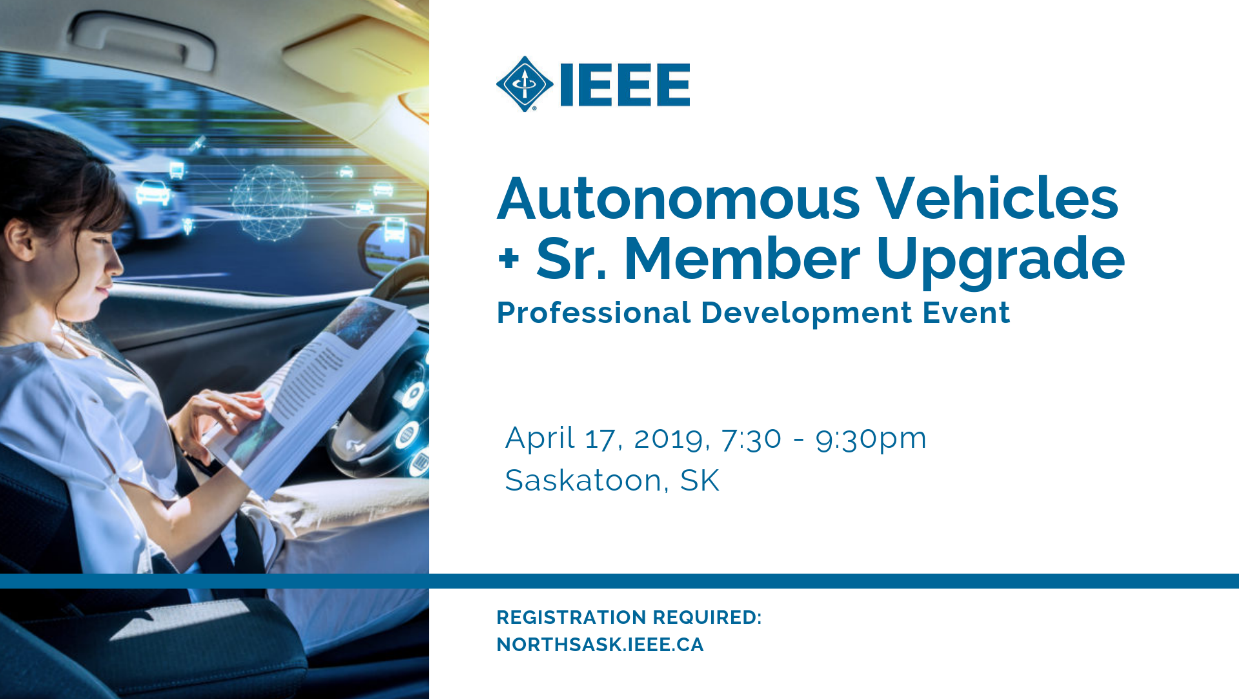 You are invited to a networking event and information session on "How to become an IEEE Senior Member" and a speech on Autonomous Vehicles. The purpose of the event is to inform the audience what an IEEE Senior Member is, and how to become one. There will also be opportunity to network with other IEEE Senior Members and Fellows who will be able to assist in the application process.
---
Date and Time
Location
Contact
Registration
---
Date: 17 Apr 2019
Time: 07:30 PM to 09:30 PM
All times are Canada/Saskatchewan
Add Event to Calendar
111 Research Drive
Saskatoon, Saskatchewan
Canada S7N 3R2

Building:

The Atrium

Room Number:

Candle Room (Main Floor)
---
Starts 15 March 2019 10:47 AM
Ends 17 April 2019 07:30 PM
All times are Canada/Saskatchewan
Admission fee

?
---
Speakers

Randy Hanson
Topic:
Autonomous Vehicles – Progress and Potential Socio-Economic Impacts
There will also be a presentation from Randy Hanson, CEO of International Road Dynamics. This presentation provides an overview of the current state of autonomous vehicle deployments and developments and discusses societal impacts on the adoption of Autonomous Vehicles. The presentation is based on ongoing work done by CAVCOE, the Canadian Automated Vehicles Centre of Excellence. CAVCOE provides consulting services, analysis and recommendations to all levels of government, public sector agencies, private sector companies and industry associations.
---
Agenda
Registration 7:15 – 7:30 PM
Senior Member Upgrade Info 7:30 – 8 PM
Autonomous Vehicles Presentation 8 – 9 PM
Networking 9 – 9:30PM
---
To be elegible to apply for senior membership, 10 years of experience is required, a bachelors degree counts as 3 years experience.
---
Media
---