Wisconsin Energy Institute Tour
---
Madison Life Member Affinity Group Event
---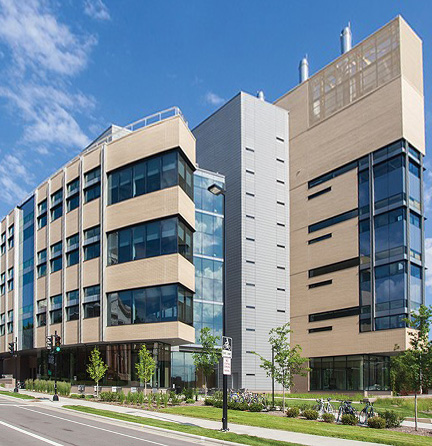 The Wisconsin Energy Institute (WEI) is the collaborative home of energy research and education on the University of Wisconsin–Madison campus. WEI is tackling one of the most critical challenges of our time – the transition away from fossil fuel dependence toward new clean energy systems and solutions. A leader in clean energy research, WEI is led by scientists and engineers committed to crossing traditional research boundaries and making major breakthroughs. WEI works closely with industry leaders to ensure that its technologies strengthen Wisconsin's economy and improve the health and wellbeing of its citizens. WEI also provides a place for the exchange of forward-looking ideas. They create a public forum in which to learn about and discuss energy challenges, and help prepare students and community members to take the lead in transitioning the world to clean energy.
From basement to rooftop, WEI's LEED Gold Certified building incorporates some of the most innovative and forward-thinking technologies of our time. Opened in 2012, WEI's 107,000 square foot building is designed to use 52% less energy than code minimum. Some of its features include:
Five photovoltaic solar arrays on two different roof levels with the capability of producing 26 kilowatts of electricity feeding directly into WEI's grid;
A Heat Recovery System including a glycol heat reclaim module and a 20-ton heat pump chiller system for recovering wasted building heat;
Chilled beam technology for cooling office areas;
High-density server cooling racks providing redundant power and cooling at every enclosure to maximize space and minimize energy use;
Low-flow plumbing fixtures providing water savings of 33% compared to typical fixtures;
Building design and orientation optimized for daylight, reducing electricity demand;
Reclaimed and recycled wood, glass, steel, and carpet used throughout the building; and
More than 35% of electricity provided by green power.
The building's wet and dry laboratories also have a flexible, "plug and play" design allowing research teams to easily adapt or reconfigure their workspace for new projects or collaborations.
---
Date and Time
Location
Hosts
Registration
---
Date: 13 May 2019
Time: 02:45 PM to 04:00 PM
All times are US/Central
Add Event to Calendar
1552 University Ave.
Madison, Wisconsin
United States 53726

Building:

Wisconsin Energy Institute

Room Number:

Lobby
---
Starts 03 May 2019 02:24 PM
Ends 13 May 2019 12:24 PM
All times are US/Central
No Admission Charge
---
Speakers

Mary Blanchard - WEI Associate Director
We will learn about current WEI research and partnerships.
We will visit a lab space of the Great Lakes Bioenergy Research Center, a Department of Energy-funded center focused on developing sustainable biofuels and bioproducts.
We will visit the the high bay lab of the Wisconsin Electric Machines and Power Electronics Consortium (WEMPEC).
Biography:
Formerly the Director of Marketing and Governmental Affairs at Virent, Inc., Mary Blanchard brings an extensive knowledge of the biofuel industry and a broad understanding of the economic, social and environmental opportunities created by sustained, cross-disciplinary research on energy. She holds bachelor's degrees in Electrical Engineering and English from the University of Notre Dame, a master's degree from the London School of Economics, and a MBA from Northwestern University.
Address: Madison, Wisconsin, United States
---
Agenda
2:45 Sign In, Social Time, Announcements, Introductions
3:00 Tour
4:00 Adjourn
---
Parking
The closest visitor parking is lot 17 at 1525 Engineering drive.
---