Micro Tutorial: Root Cause Analysis Skills
---
Micro Tutorial: Introduction to Root Cause Analysis Skills

A Joint Education Society (Chapter 13) & Computer Society (Chapter 5) Presentation
---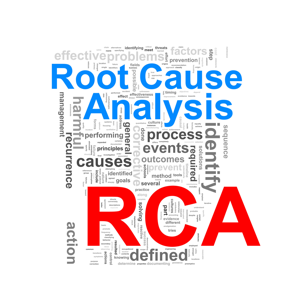 Root Cause Analysis (RCA) is a popular and often-used technique that helps people answer the question of why the problem occurred in the first place. Root Cause Analysis seeks to identify the origin of a problem. It uses a specific set of steps, with tools such as the 5 Whys and Cause & Effect Diagram, to find the primary cause of the problem, so that you can determine what happened, why it happened and figure out what to do to prevent its recurrence.
This tutorial has been prepared for beginners to help them understand RCA and use it at their place of work. After completing this tutorial, you will find yourself at a moderate level of expertise, from where you can advance further.
Prerequisites
A desire to boost your professional skills
Key Target/Objective: This entire seminar is designed to enable folks to be well informed on the higher level technical aspects of RCA, so they can step into this world with full confidence, with the right perspective.
---
Date and Time
Location
Contact
Registration
---
Date: 13 Jul 2019
Time: 01:00 PM to 03:30 PM
All times are US/Eastern
Add Event to Calendar
275 Varner Road
Oakland University
Rochester, Michigan
United States 48309-4479

Building:

Elliot Hall

Room Number:

214 EH
For final registration, you will be contacted directly via email to confirm your current membership and pre-payment. Once completed, you will receive an attendee confirmation. Attached is a flyer

Co-sponsored by

Sharan Kalwani
Starts 04 June 2019 01:21 PM
Ends 12 July 2019 05:21 PM
All times are US/Eastern
5 spaces left!
No Admission Charge
---
Speakers
Sharan Kalwani
of IEEE Education Society
Topic:
Root Cause Analysis Skills
Biography:
A seasoned scientifc, technical and computing professional, Sharan has spent over 20+ years implementing many new and pioneering technologies from operating systems (*nix) , high performance computing (Cray, SGI, clusters), engineering applications (CAE simulations), optimization, networking (TCP/IP, Infiniband), operations (ITIL, ITSM), scientific domain (BioInformatics), and project management. A successful speaker and author, Sharan looks to increase the professional approach of every individual he interacts with. He enjoys teaching, contributing to STEM activities and publishing. He is a senior member of IEEE, ACM, Emeritus member of Michigan!/usr/group, and leads the SEMCO.ORG. He is currently the Chair of the IEEE SE Michigan Education Society Chapter for 2017-2019.
---
Agenda
12:45 PM - Registration/Sign In, verification of attendee, Coffee & Continental Snacks
1:00 - 1:05 PM - Welcome and Introductions, Chapter business update
1:15 PM - Overview of the Micro Tutorial Session, Speaker: Sharan Kalwani
2:15 PM - End of Tutorial Talk: Part 1, Break
2:30 PM - Tutorial Talk: Part 2
3:20 PM - End of session, Q&A
3:30 PM - Formal Conclusion, Feedback session and Wrap Up
A printed copy of the notes will be provided to each confirmed attendee. There is a small fee to cover costs of refreshments and the printed material. Registration is confirmed only after fee is pre-paid
---
CEUs (or PDH) are available by prior request. Please indicate this on the sign-in sheet or email the sponsors in advance. There is a small fee ($45 for IEEE members and $65 for non-IEEE members) to cover materials, handouts, tutorial notes, refreshments, etc.
---