Region 4 Chapter Meeting Data Q&A
---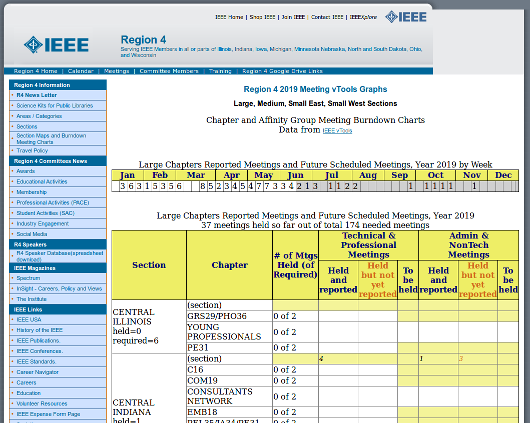 Q&A session to answer questions about using the data on the Chapter Meeting charts on the Region web site. This is a WebEx-only event. Follow the survey link and submit a survey and you will receive an email with the WebEx login information.
The chapter meeting data is at http://ewh.ieee.org/reg/4/r4_meetings_vtools_graphs_areas_2019.php
---
Date and Time
Location
Contact
Registration
---
Date: 10 Jun 2019
Time: 12:00 PM to 01:00 PM
All times are US/Eastern
Add Event to Calendar
Starts 06 June 2019 08:00 PM
Ends 10 June 2019 11:30 AM
All times are US/Eastern
No Admission Charge
---
Speakers

Mark Ciechanowski, P.E., CSDP
Topic:
Chapter Meeting Charts
Biography:
Mark is the Region 4 Chapters Coordinator and Communications Coordinator.
Email:
Address:Michigan, United States

Dan Roesler
Biography:
Dan is the Region 4 Vitality Coordinator and Cedar Rapids Section Chair
Email:
Address:Iowa, United States
---
Agenda
Welcome and Introductions - Mark and Dan
5 to 10 minutes overivew of the Meeting data web page - Mark
45 minutes - Q&A
Wrap up and next Q&A
---