Moon-gazing Event: Celebrating Apollo's 50th Anniversary
---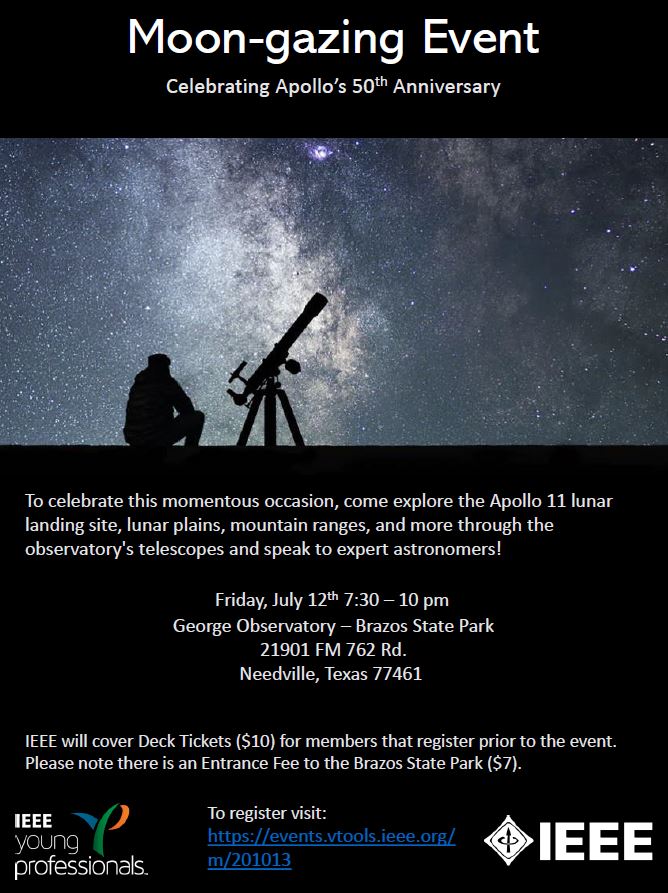 This year marks 50 years since humankind first landed on the moon. To celebrate this momentous occasion, the IEEE Houston Section & IEEE Houston Young Professionals invites all members to attend the George Observatory's Moon-gazing event.
Come explore the Apollo 11 lunar landing site, lunar plains, mountain ranges, and more through the observatory's telescopes and speak to expert astronomers!
In the event of overcast skies, telescopes/facility tours and talks by the observatory's expert astronomers will still take place.
IEEE will cover Deck Tickets ($10) for members that register prior to the event.
Please note there is an Entrance Fee to the Brazos State Park ($7).
For more information on the George Observatory:
https://www.hmns.org/george-observatory/
UPDATE:
WEATHER: As of this evening (7/11/19), the Moon-gazing event is set to continue tomorrow evening! There is a slight change (20%) for storms, however, there is still a chance for a great view! In the event of overcast skies, tours and talks by George Observatory expert astronomers are still available.
As always, please use your best judgement to ensure your personal safety and do not attempt to cross roads where there is significant flooding or hazards. Houston TRANSTAR is a great resource for flooding areas & road closures (traffic.houstontranstar.org). If you have any questions please feel free to reach out.
---
Date and Time
Location
Hosts
Registration
---
Date: 12 Jul 2019
Time: 07:30 PM to 10:00 PM
All times are (GMT-06:00) US/Central
Add Event to Calendar
Starts 04 July 2019 02:00 AM
Ends 12 July 2019 03:20 PM
All times are (GMT-06:00) US/Central
No Admission Charge
---
---