Load Banks for Power System Testing
---
PES / IAS / LM Joint Meeting
---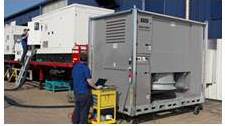 Load Banks for Power System Testing

Why do you need a load bank?
Load Bank Designs
Load Bank Applications
Load Bank Safety
---
Date and Time
Location
Hosts
Registration
---
Date: 25 Oct 2019
Time: 09:00 AM to 02:00 PM
All times are (GMT-05:00) US/Eastern
Add Event to Calendar
160 Park Avenue
Florham Park, New Jersey
United States 07932

Building:

ASCO Power Technologies

Room Number:

Auditorium
---
Co-sponsored by

Ken Oexle
Starts 01 August 2019 08:00 AM
Ends 25 October 2019 10:00 AM
All times are (GMT-05:00) US/Eastern
Admission fee

?
---
Speakers
Topic:
Load Banks for Power System Testing
Load Banks for Power System Testing

Why do you need a load bank?
Load Bank Designs
Load Bank Applications
Load Bank Safety
Biography:
Mark Prevoznik, Mark started his career as Ground Support Technician in the United States Air Force. While in the Air Force Mark troubleshot, and maintained Load Banks, Test Stands, Start-Carts and GPU's. He was honorably discharged after four years of service with the rank of Sergeant.
Mark was hired as a load bank test technician at Avtron Mfg. Company. During his years at Avtron, Mark was promoted in to various Sales position and was elevated to Direct of US Load Bank sales prior to the purchase of Avtron by ASCO Power Technologies. While at ASCO, Mark has been involved in National Accounts and most recently Business Development Manager where he holds a senior sales position. Over the last year Mark has also championed the Load Bank Marketing activities for the entire North American Market.
Mark is a published author with chapters in both the Fourth and Fifth Edition of the Electrical Generating Systems Association (EGSA) reference book. He has also written countless articles and white papers for trade publications.
He holds a degree in Aerospace Technology from the College of the Air Force, and passed the Advanced Leadership School at Emerson Electric.
Email:
Address:160 Park Avenue, , Florham Park, New Jersey 07932 , New Jersey, United States, 07932
---
Agenda
The seminar fee includes lunch, refreshments and handouts. Non-members joining IEEE within 30 days of the seminar will be rebated 50% of the IEEE registration charge.
Four hours of instruction will be provided. If desired, IEEE Continuing Education Units (0.4 CEUs) will be offered for this course - a small fee of $45 will be required for processing.
Please pay attention to the "Registration Fee" and choose the appropriate choice either with or without CEUs.
---
All Invited - Please Post
---