Tips and Thoughts on Successful Grant Application
---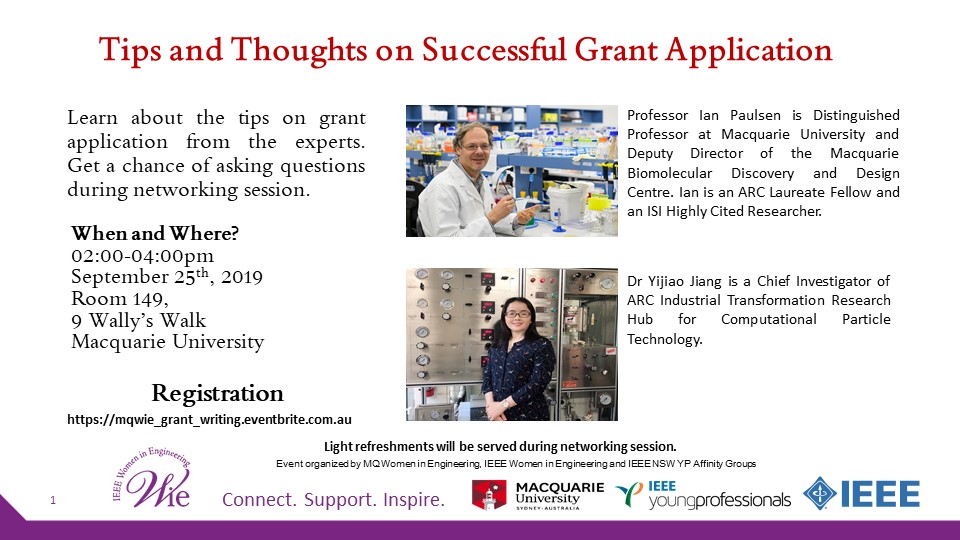 Learn about the tips on grant application from the experts. Get a chance of asking questions during networking session.
Please register at the following link.
https://mqwie_grant_writing.eventbrite.com.au
---
Date and Time
Location
Hosts
Registration
---
Date: 25 Sep 2019
Time: 02:00 PM to 04:00 PM
All times are (GMT+10:00) Australia/NSW
Add Event to Calendar
naila.mukhtar@mq.edu.au

Haiyan.Lu@uts.edu.au

syed.abbas@mq.edu.au

Co-sponsored by

IEEE MQ WIE Affinity Group, IEEE NSW YP Affinity Group
---
Speakers
Ian Paulsen
Biography:
Professor Ian Paulsen is Distinguished Professor at Macquarie University and Deputy Director of the Macquarie Biomolecular Discovery and Design Centre. Ian is an ARC Laureate Fellow and an ISI Highly Cited Researcher. He has published more than 280 journal papers, which have received over 75,000 citations. Currently his H-index is 115 (Google Scholar, Aug 2019). Thomson Reuters identified him as one of the world's 3000 most influential scientific minds in 2014. Indicative of his scientific esteem, he received a Macquarie University Research Excellence Award in 2014. He received a PhD from Monash University and was an NHMRC C.J. Martin Fellow at the University of California at San Diego. He then took a faculty position at the Institute for Genomic Research (TIGR), where he led many microbial genome sequencing projects. Ian returned to Australia in 2007 as a Professor at Macquarie University and received a Life Science Research Award from the NSW Office of Science and Medical Research. He is the founder and Director of the new Synthetic Biology Laboratory at Macquarie University. His published work has received significant press attention, including two interview on the Channel 7 news in the last two years, as well as numerous radio and newspaper interviews, including in the Washington Post and New York Times.
Yijiao
Biography:
Dr Yijiao Jiang is a Chief Investigator of ARC Industrial Transformation Research Hub for Computational Particle Technology. After completing her PhD at University of Stuttgart (Germany), she worked as postdoc at ETH Zürich from 2008 to 2010. Yijiao was awarded UNSW Vice-Chancellor's Research Fellowship in 2010 and ARC Discovery Early Career Researcher Award (DECRA) in 2011, which was jointly hosted by Lawrence Berkeley National Laboratory. Since joining at MQ in August 2014, she has secured over AUD$4.3m in research grants from the ARC Research Hub with industrial partners (Rio Tinto and JITRI), ARC DPs, and the EU H2020 etc. Currently Yijiao is leading a dynamic research group with 1 ARC DECRA, 1 visiting professor and 7 PhD students. Her research interests mainly focus on the development of better thermal-, photo-, and electro-catalytic systems for green chemical processes, renewable energy production and environmental protection. She has developed various in situ and operando spectroscopic techniques including NMR, EPR, IR, UV-Vis and Raman for achieving breakthroughs in catalysis research.
---