4TA Cena Técnica PES
---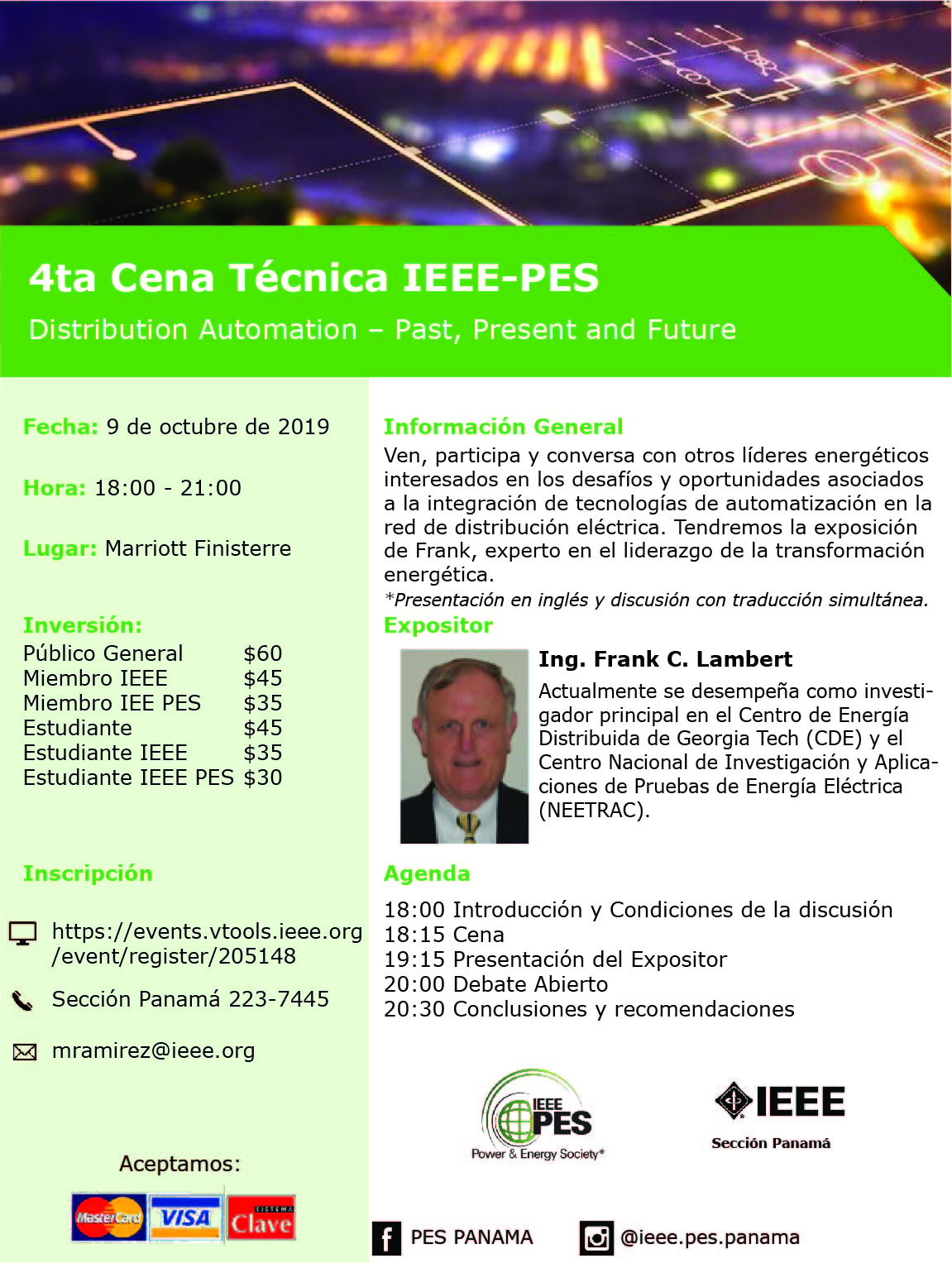 El modelo de servicio regulado con una red centralizada donde la generación despachada sigue a la carga ha sido muy eficaz durante más de 100 años. Sin embargo, la red está cambiando rápidamente con tecnologías exponenciales (computación, energía solar fotovoltaica, eólica, transporte eléctrico, almacenamiento, micro controladores, sensores, IoT, tecnologías de comunicación, cadena de bloques, nube, control autónomo, aprendizaje profundo) donde los paradigmas tradicionales de control se están desmoronando.
A las empresas de servicios públicos les gustaría controlar de forma centralizada los dispositivos de borde "inteligentes" en la red, pero esto no es escalable a millones de nodos.
¡Se requerirá un paradigma descentralizado para el futuro!
Ven, participa y conversa con otros líderes energéticos interesados en los desafíos y oportunidades asociados a la integración de tecnologías de automatización en la red de distribución. Tendremos la exposición de Frank, experto en el liderazgo de la transformación energética e investigaciones del Centro de Energía Distribuida de Georgia Tech.
---
Date and Time
Location
Hosts
Registration
---
Date: 09 Oct 2019
Time: 06:00 PM to 09:00 PM
All times are (GMT-05:00) America/Panama
Add Event to Calendar
Vía España y Calle 47
Bella Vista
Panama, Panama
Panama

Building:

Marriott Finisterre
---
Starts 19 September 2019 08:00 AM
Ends 09 October 2019 05:00 PM
All times are (GMT-05:00) America/Panama
No Admission Charge
---
Speakers
Frank Lambert
Topic:
Distribution Automation – Past, Present and Future
Biography:
Actualmente se desempeña como investigador principal en el Centro de Energía Distribuida de Georgia Tech (CDE) y el Centro Nacional de Investigación y Aplicaciones de Pruebas de Energía Eléctrica (NEETRAC).
---
Agenda
18:00 Introducción y Condiciones de la discusión
18:15 Cena
19:15 Presentación del Expositor
20:00 Debate Abierto
20:30 Conclusiones y recomendaciones
---