The Future of Artificial Intelligence
---
The Future of Artificial Intelligence
Panel Discussion & Networking Event
---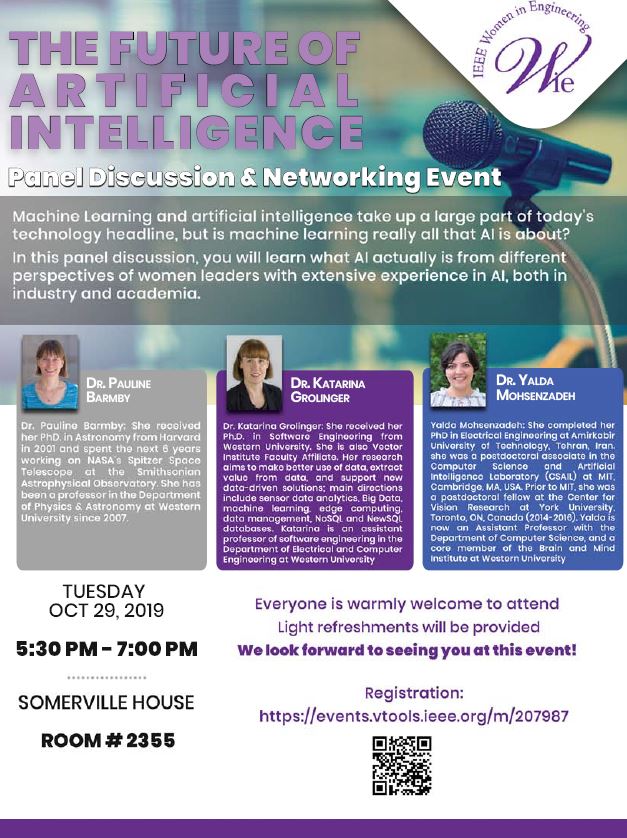 Machine Learning and artificial intelligence take up a large part of today's technology headline, but is machine learning really all that AI is about?
In this panel discussion, you will learn what AI actually is from different perspectives of women leaders with extensive experience in AI, both in industry and academia.
---
Date and Time
Location
Hosts
Registration
---
Date: 29 Oct 2019
Time: 05:30 PM to 07:00 PM
All times are (GMT-05:00) Canada/Eastern
Add Event to Calendar
1151 Richmond St
Western University
London, Ontario
Canada

Building:

Somerville House

Room Number:

2355
---
Starts 21 October 2019 12:30 PM
Ends 29 October 2019 12:30 PM
All times are (GMT-05:00) Canada/Eastern
No Admission Charge
---
Speakers
Invited panelists:
Dr. Pauline Barmby received her PhD in Astronomy from Harvard in 2001 and spent the next 6 years working on NASA's Spitzer Space Telescope at the Smithsonian Astrophysical Observatory. She has been at Western since 2007 as a professor in the Department of Physics & Astronomy. Her research focuses on applying innovative statistical and computational techniques to multiwavelength observations of nearby galaxies.
Dr. Katarina Grolinger is an assistant professor of software engineering in the Department of Electrical and Computer Engineering at Western University. Katarina Grolinger received her Ph.D. and M.Eng. degrees in Software Engineering from Western University. Previously, she obtained her M.Sc. and B.Sc. degrees in Mechanical Engineering from the University of Zagreb, Croatia. Her research aims to make better use of data, extract value from data, and support new data-driven solutions; main directions include sensor data analytics, Big Data, machine learning, edge computing, data management, NoSQL and NewSQL databases. Dr. Groliger's work is largely carried out in collaboration with industry where she develops research to solve industry problems. Moreover, she has over ten years of industry experience in various roles including software engineer, Oracle certified database administrator, and technical team leader. She is also Vector Institute Faculty Affiliate.
Dr. Yalda Mohsenzadeh is an Assistant Professor with the Department of Computer Science, and a core member of the Brain and Mind Institute at The University of Western Ontario. Previousely, she was a postdoctoral associate in the Computer Science and Artificial Intelligence Laboratory (CSAIL) at MIT, Cambridge, MA, USA. Prior to MIT, she was a postdoctoral fellow at the Center for Vision Research at York University, Toronto, ON, Canada (2014-2016). She completed her PhD and MSc in Electrical Engineering at Amirkabir University of Technology and Sharif University of Technology, Tehran, Iran, in 2014 and 2009, respectively. Her research is interdisciplinary, spanning machine learning, computer vision and cognitive computational neuroscience, and investigating human vision and memory using a combination of human neuroimaging (fMRI and MEG/EEG), behavior, computational modeling and machine learning. Her research has resulted in numerous international conference presentations and published high profile journal articles (such as eLife, Plos Computational Biology, IEEE Transactions).
Address:Canada
---
Admission is free
---