IEEE YP: LaTeX Workshop
---
IEEE Young Professionals Ottawa Section: LaTeX Workshop!
---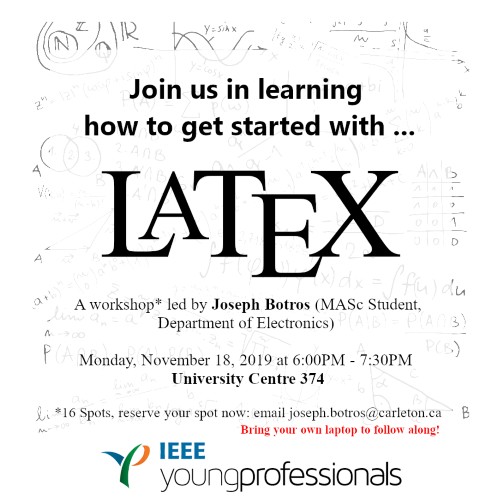 Join us in learning how to get started with LaTeX!
A workshop led by Joseph Botros (MASc Student, Department of Electronics, Carleton University)
Monday, November 18, 2019 at 6:00PM - 7:30PM
Carleton University, University Centre Room: 374
1125 COLONEL BY DRIVE
Ottawa, Ontario K1S 5B6 Canada

*Only 16 spots available, reserve yours now: email joseph.botros@carleton.ca
Bring your own laptop to follow along!
---
Date and Time
Location
Hosts
Registration
---
Date: 18 Nov 2019
Time: 06:00 PM to 07:30 PM
All times are Canada/Eastern
Add Event to Calendar
Carleton University
1125 COLONEL BY DRIVE
Ottawa, Ontario
Canada K1S 5B6

Building:

University Centre

Room Number:

374
---
---
---
Agenda
LaTex provides countless advantages to writing your paper, your report, or your thesis. This workshop is designed for those who want to get started using LaTeX. You will learn how to setup the software and the basic functions and commands that allow you to include sections, figures, tables, and references. You can then take your newfound skills and apply them as you advance your career.
---