Quantum Computing in DC
---
A discussion on the opportunities in Quantum Computing. Meet and hear from the most influential CEOs and founders worldwide!
---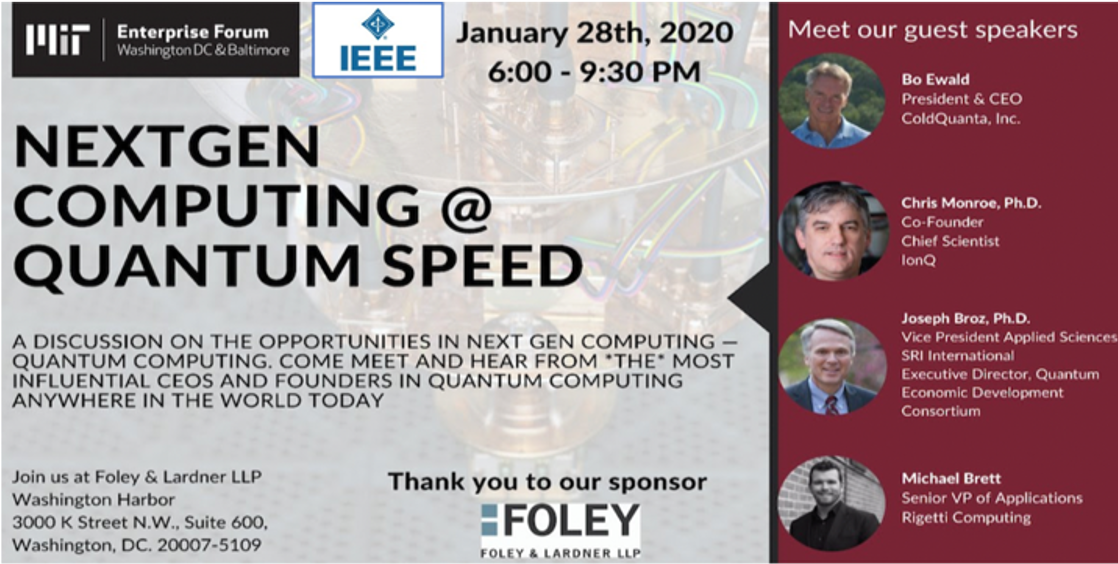 MITEF DC along with IEEE is hosting *the* Quantum Computing discussion event that impacts our Next Gen workforce. We have a stellar roundtable of CEO and founder speakers from Rigetti Computing, IonQ, ColdQuanta and the Quantum Economic Development Consortium. We'll discuss founder success stories, the real opportunity for entrepreneurs in quantum and focus on how we ready the next generation of programmers, business leaders and emerging growth companies for commercial quantum.
---
Date and Time
Location
Contact
Registration
---
Date: 28 Jan 2020
Time: 06:00 PM to 09:30 PM
All times are America/New_York
Add Event to Calendar
Foley & Lardner LLP
3000 K Street N. W., Suite 600
Washington , District of Columbia
United States 20007-5109
---
---
Agenda
Check out our amazing speakers:
Bo Ewald | President & CEO at ColdQuanta, Inc.
Chris Monroe, Ph.D. | Co-Founder and Chief Scientist at IonQ
Joseph Broz, Ph.D. | Vice President SRI International -and- Executive Director and Governing Board Chairman, The Quantum Economic Development Consortium (QED-C)
Michael Brett | SVP of Applications at Rigetti Computing
---