Women in Data Science (WiDS) Calgary Conference
---
WiDS Calgary is a conference event coinciding with the annual global Women in Data Science (WiDS) Conference held at Stanford University (http://www.widsconference.org/) with an estimated 150+ locations worldwide. These events aim to inspire and educate data scientists worldwide, regardless of gender, and to support women in this field.
---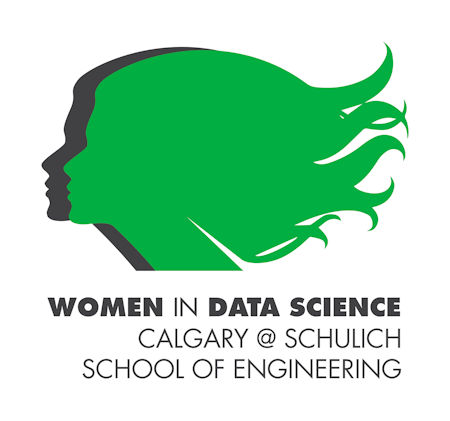 WiDS Calgary at the Schulich School of Engineering provides opportunities to hear about the latest data science-related research and applications, connect with others, and celebrate the work of outstanding women in this dynamic field.
Registration is free and all genders are invited to attend.
If you are interested in volunteering for this event, please fill out this form: https://forms.gle/qVtkqaBWR1MRx8D26
CALL FOR POSTERS
DEADLINE HAS BEEN EXTENDED! SUBMIT YOUR ABSTRACT BY FRIDAY FEBRUARY 21 FOR A CHANCE TO WIN THE BEST POSTER AWARDS!
A poster session will be held in conjunction with Women in Data Science (WiDS) Event at the University of Calgary on March 2, 2020.
Female professionals and researchers from related science and engineering disciplines are welcome to submit their work for an interactive (poster) presentation at the WiDS conference. Interested participants should send a short abstract (maximum 250 words) of their work to the conference committee via email at widscalgary@ucalgary.ca by February 17, 2020. Proposed abstracts may describe the participant's work in progress or completed projects in any areas of data science.
The Technical Committee will review the abstracts to assure quality and relevance. Authors will be notified of acceptance on February 20, 2020.
Authors of accepted abstracts are expected to:
prepare and print a poster of size A1 (59.4 x 84.1 cm) in portrait orientation
be present in front of their poster during the poster session
BEST POSTER AWARD
The conference committee will select the three best posters presented during the interactive poster session. The winners of the Best Poster Awards will be announced during the closing ceremony of the WiDS conference and will receive $300, $200 and $100 bursaries.
---
Date and Time
Location
Hosts
Registration
---
Date: 02 Mar 2020
Time: 09:00 AM to 07:30 PM
All times are Canada/Mountain
Add Event to Calendar
Starts 28 January 2020 02:00 PM
Ends 27 February 2020 12:45 PM
All times are Canada/Mountain
No Admission Charge
---
---
Agenda
9:00 to 9:20

Welcome Notes

Dr. Qiao Sun, University of Calgary

9:20 to 9:25

Live stream - Global WiDS Conference Opening

9:30 to 10:15

Local keynote: Addressing Unconscious Bias to Prevent Large-Scale-Software-Project Failures

Dr. Chris Macnab, University of Calgary

10:15 to 10:35

Coffee break

10:35 to 11:20

Local keynote: Networking for Data Science

Dr. Mea Wang, University of Calgary

11:20 to 11:40

Live stream – TBA

Dr. Been Kim, Google Brain

11:40 to 12:00

Interactive poster presentations

12:00 to 12:45

Lunch

12:45 to 13:30

Live stream – TBA

Tsu-Jae King Liu, University of California, Berkeley

13:30 to 14:15

Local keynote: What is an Intelligent Enterprise?

Sarah Shortreed, ATCO

14:15 to 14:35

Live stream – TBA

Newsha Ajami, Director of Urban Water Policy, Standord University

14:35 to 14:55

Local keynote: Data Physicalization

Carmen Hull, PhD Candidate, University of Calgary

14:55 to 15:00

Grace Hopper Celebration - promo

15:00 to 15:15

Coffee break

15:15 to 15:35

Live stream – TBA

Ya Xu, Head of Data Science, LikedIn

15:35 to 15:55

Live stream – TBA

Rama Akkiraju, IBM Fellow, IBM

16:00 to 16:45

Local keynote: The Role of Data Science in Education

Emily Marasco, University of Calgary

16:45 to 16:55

Voting for best poster presentations

16:55 to 17:00

Closing remarks

Dr. Laura Curiel, University of Calgary

17:30 to 19:00

Networking Event, The Black Lounge/The Den, MacEwan Student Centre
---