IEEE Central Coast Event – 19 Feb 2020 @ 6PM - Professor Jerry D. Gibson Presents: Compression of Everything
---
Hello, There's still time to register for Professor Gibson's "Compression of Everything" signal processing tech-talk, tomorrow, 6 PM Wednesday 19 February at Rusty's. Please register yourself and guests
Best regards,
Ruth Franklin, IEEE Central Coast Chair
---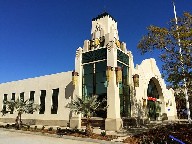 FREE EVENT
Location – Rusty's Pizza
5934 Calle Real, Goleta, CA 93117
6:00 PM – Complimentary Pizza, Salad, Beverage
6:25 PM – Central Coast Status
6:30 PM – Dr. Gibson's Presentation
---
Date and Time
Location
Hosts
Registration
---
Date: 19 Feb 2020
Time: 06:00 PM to 08:30 PM
All times are (UTC-08:00) Pacific Time (US & Canada)
Add Event to Calendar
5934 Calle Real
Goleta, California
United States 93117

Building:

Rusty's Pizza

Room Number:

Large Meeting Room
---
Starts 23 January 2020 10:39 PM
Ends 19 February 2020 05:30 PM
All times are (UTC-08:00) Pacific Time (US & Canada)
No Admission Charge
---
Speakers

Professor Jerry D. Gibson
of UCSB ECE
Topic:
Compression of Everything
Everything you consume or create on your cell phone, laptop, or tablet is compressed or will be. Compression is fundamental to our media-rich society today but is largely hidden behind the physical and network distribution layers. Compression is the representation of a signal in digital form with as few bits as possible while retaining the quality required for the given application. The technologies used for voice, audio, still images, and video all differ but broadly consist of time or frequency domain decompositions, quantization, and lossless coding. The need for compression is established in this talk and details of the compression methods are outlined, with particular emphasis on the signal processing required. Developing compression applications for biological signals such as EEG, ECG, and EMG are discussed.
Biography:
Jerry D. Gibson is Professor of Electrical and Computer Engineering at the University of California, Santa Barbara. He has been an Associate Editor of the IEEE Transactions on Communications and the IEEE Transactions on Information Theory. He was an IEEE Communications Society Distinguished Lecturer for 2007-2008. He is an IEEE Fellow, and he has received The Fredrick Emmons Terman Award (1990), the 1993 IEEE Signal Processing Society Senior Paper Award, the 2009 IEEE Technical Committee on Wireless Communications Recognition Award, and the 2010 Best Paper Award from the IEEE Transactions on Multimedia. He is the author, coauthor, and editor of several books, the most recent of which are The Mobile Communications Handbook (Editor, 3rd ed., 2012), Rate Distortion Bounds for Voice and Video (Coauthor with Jing Hu, NOW Publishers, 2014), and Information Theory and Rate Distortion Theory for Communications and Compression (Morgan-Claypool, 2014). His research interests are lossy source coding, wireless communications and networks, and digital signal processing.
EDUCATION: Ph. D., Electrical Engineering, Southern Methodist University, 1973. M. S., Electrical Engineering, Southern Methodist University, 1971. B. S., Electrical Engineering, University of Texas at Austin, 1969.
Address:United States
---