Play Your Solo Online Event
---
---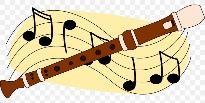 Sponsored by OCRS, SCRS, and the IEEE Coastal Los Angeles Section
The online "Play your Solo" meeting!
The technology is here- Let's do it!
Announcing the June 6, online "Play your solo" meeting. Free Registration to listen and perform closes Monday June 1st.
People will be able to play a solo piece using the web cam on their computer, and the audience can listen to the performance. A special meeting invitation will be posted here and sent to everyone that registers. The online performance will use Zoom.
Please register so that the Zoom link can be e-mailed to you. If you just want to listen to the concert- that's great, just enter NA for the title of the piece. Eveeryone that registers will be contacted to make sure that they can log on.
If you don't have a solo lined up, here are three examples of some of solos. There is a lot of music online, and available from publishers.
A triosonata by Handel (There are a lot of Recorder sonatas)
https://imslp.org/wiki/Recorder_Sonata_in_F_major%2C_HWV_369_(Handel%2C_George_Frideric)
Greensleves on a ground
The Division Flute (Walsh, John)
https://imslp.org/wiki/Greensleeves_to_a_Ground_(Anonymous)
Variations on a theme by van Eycks (There are a lot of great commercial versions of this with good typesetting)
Der Fluyten Lust-Hof (Eyck, Jacob van)
https://imslp.org/wiki/Der_Fluyten_Lust-Hof_(Eyck,_Jacob_van)
Page 12 has a Pavanne Lacrymae based on Dowland
Special sessions will be planned for for people to do sound checks and the Concert on June 6, starting at 2 pm
---
Date and Time
Location
Contact
Registration
---
Date: 06 Jun 2020
Time: 02:00 PM to 04:00 PM
All times are America/Los_Angeles
Add Event to Calendar
Co-sponsored by

OCRS and SCRS
Starts 07 April 2020 07:05 AM
Ends 04 June 2020 12:05 PM
All times are America/Los_Angeles
No Admission Charge
---
---
Agenda
Free Registration to listen and to play.
Start at 2 PM on June 6. A schedule will be posted the day before, and special performers will be announced.
---