Innovation in Action – Combining 'Engineering with Inspiration' the IEEE way
---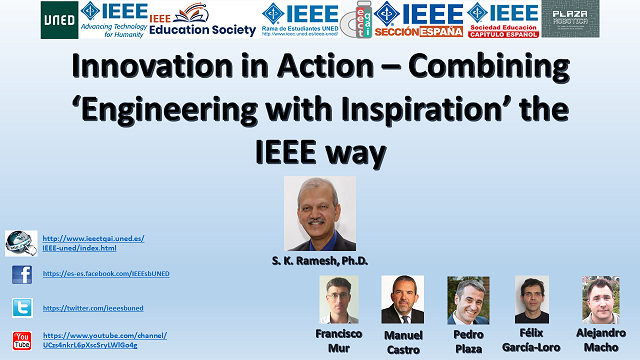 Dear all,
Next Tuesday 5 May 2020 at 19:00, the session Innovation in Action – Combining 'Engineering with Inspiration' the IEEE way will take place.
We are witnessing an extraordinary test of the human spirit the past few months as governments and institutions worldwide take steps to protect people and prevent the spread of the global pandemic resulting from COVID-19. With the switch to telework and telehealth, the technologies created by IEEE members are clearly making a difference, and will continue to play an important role in the new world economy when we emerge from this pandemic.
This presentation will address some of the educational resources available through IEEE to keep our members connected, engaged, and supported – now and in the future. Programs such as EPICS in IEEE, and IEEE's Humanitarian Activities bring together students, NGO's, and professionals to address challenges in their local communities through innovative technological solutions. You can make a difference in your community by serving IEEE in volunteer leadership roles that enhance your professional development and leads to fulfilling careers.
As I reflect on my association with IEEE over the past 38 years I can say unequivocally that the values that I have learned are the ones that drive me every single day: To be "Inclusive, Collaborative, Accountable, Resilient, and Ethical". Simply put "I CARE" and I know that is true for IEEE members everywhere. There has never been a better time to share, learn, and grow.
This event is organized from the UNED, led by its Vicerrectorado de Estudiantes y Emprendimiento, in combination with the Student Branch of the IEEE of the UNED, will develop a new activity with the participation of students who belong to the Branch, in collaboration with other Vicerrectorados de la UNED (Investigación e Internacionalización, Centros Asociados), the Associate Center of Madrid at its headquarters in Las Tablas, the Schools of Industrial Engineering, Computer Science and the Faculty of Sciences (Mathematics, Physics, Chemistry and Environment), the Teaching Innovation Project (PID) for Teaching Innovation Groups (GID) of the UNED, GID2016-17 "Laboratorios de STEM y robótica educativa para la mejora de la experiencia del estudiante – STEM‐SEC", the Spanish Chapter of the IEEE Education Society and Plaza Robotica.
We are waiting for you.
Receive a cordial greeting,
The IEEE Student Branch at UNED.
---
Date and Time
Location
Hosts
Registration
---
Date: 05 May 2020
Time: 07:00 PM to 08:00 PM
All times are (UTC+01:00) Madrid
Add Event to Calendar
Co-sponsored by

Plaza Robotica
Starts 27 April 2020 08:33 AM
Ends 05 May 2020 07:00 PM
All times are (UTC+01:00) Madrid
No Admission Charge
---
Speakers
Biography:
S. K. Ramesh is a renowned engineering educator with over three decades of leadership experience as a dean, department chair, and faculty member in the California State University system. The programs he established serve industry practitioners in high wage, high demand fields, including renewable energy, assistive technology, and advanced manufacturing. As 2016-17 Vice President of Educational Activities, he championed collaboration, diversity, and inclusive excellence, through innovative programs like the IEEE Learning Network (ILN).
Ramesh is an IEEE Fellow recognized for "contributions to entrepreneurship in engineering education", and founding Director of CSU Northridge's internationally recognized AIMS2 program (www.ecs.csun.edu/aims2) that mentors and supports Latino/Latina students and underrepresented minorities in engineering. His many recognitions include the John Guarrera Engineering Educator of the Year, William Johnson International award for leadership and contributions to the profession, and the IEEE Region 6 Community Service award. Ramesh has served on the Boards of IEEE and ABET, leading volunteers and staff with shared strategic goals, measurable outcomes, and transparent fiscal leadership.
Email:
---
Agenda
Educational resources available through IEEE
EPICS in IEEE
IEEE's Humanitarian Activities
IEEE in volunteer leadership roles
Inclusive, Collaborative, Accountable, Resilient, and Ethical
---