Grow your network, grow your career
---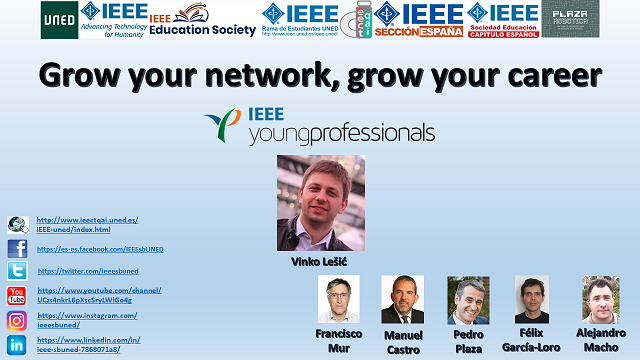 Dear all,
Next Monday 25 May 2020 at 19:00, Vinko Lešić will be presenting the session Grow your network, grow your career.
IEEE Young Professionals is the group of IEEE members who have graduated from their first professional degree within the past 15 years. This is a group of young scientists and engineers at the early stage of career who share knowledge, enthusiasm and collaboration readiness around the globe. As a young professional, you are in transition between student days and job opportunities, where you need a boost in your early career in terms of skills and contacts. This is also a category where you are experienced enough to become senior professional or manager in industry, principal investigator or research group founder in academy, or CEO or technical director in startups. It is a diverse group of both early researchers and practitioners, and technically most skilled experts.
We empower this diversity, knowledge and experience through professional, technical and entrepreneurial thematic events: lectures, workshops, conferences, congresses and networking events. The session will bring these ways closer through individual paths and success stories of our volunteers and will present the possible programs to support local such activities with up to $2750 per year.
This event is organized from the UNED, led by its Vicerrectorado de Estudiantes y Emprendimiento, in combination with the Student Branch of the IEEE of the UNED, will develop a new activity with the participation of students who belong to the Branch, in collaboration with other Vicerrectorados de la UNED (Investigación e Internacionalización, Centros Asociados), the Associate Center of Madrid at its headquarters in Las Tablas, the Schools of Industrial Engineering, Computer Science and the Faculty of Sciences (Mathematics, Physics, Chemistry and Environment), the Teaching Innovation Project (PID) for Teaching Innovation Groups (GID) of the UNED, GID2016-17 "Laboratorios de STEM y robótica educativa para la mejora de la experiencia del estudiante – STEM‐SEC", the Spanish Chapter of the IEEE Education Society and Plaza Robotica.
We are waiting for you.
Receive a cordial greeting,
The IEEE Student Branch at UNED.
---
Date and Time
Location
Hosts
Registration
---
Date: 25 May 2020
Time: 07:00 PM to 08:00 PM
All times are (UTC+01:00) Madrid
Add Event to Calendar
Co-sponsored by

Plaza Robotica
Starts 12 May 2020 06:13 PM
Ends 25 May 2020 07:00 PM
All times are (UTC+01:00) Madrid
No Admission Charge
---
Speakers

Vinko Lešić
of Faculty of Electrical Engineering
Biography:
Vinko is an academic guy, working as an assistant professor at Faculty of Electrical Engineering in Zagreb, Croatia, in the area of control theory and various applications. With 11 years in IEEE, he is currently chairing IEEE Region 8 Young Professionals and co-leading the IEEE Region 8 Entrepreneurship Initiative. Vinko acquired his PhD in 2014 with a research stage at Universidad de Sevilla, Spain, and continued his academic career in the area of control theory, renewable energy systems, building energy efficiency and electrical machines. His entrepreneurial dreams kicked-off by commercializing his patented PhD research to a multinational aerospace R&D company, followed by several technology transfer projects. Today he is a member of scientific-professional council of Innovation Centre Nikola Tesla, his faculty spin-off for commercializing university research. He is also a founder of local student innovations program and a co-founder of start-up Urban Oasis for smart aeroponic IoT gardens.
---
Agenda
IEEE Young Professionals
Boost in your early career
Diversity, knowledge and experience
Individual paths and success stories
Q&A
---