CICLO DE SEMINARIOS "INMUNIZANDO" LA DOCENCIA UNIVERSITARIA
---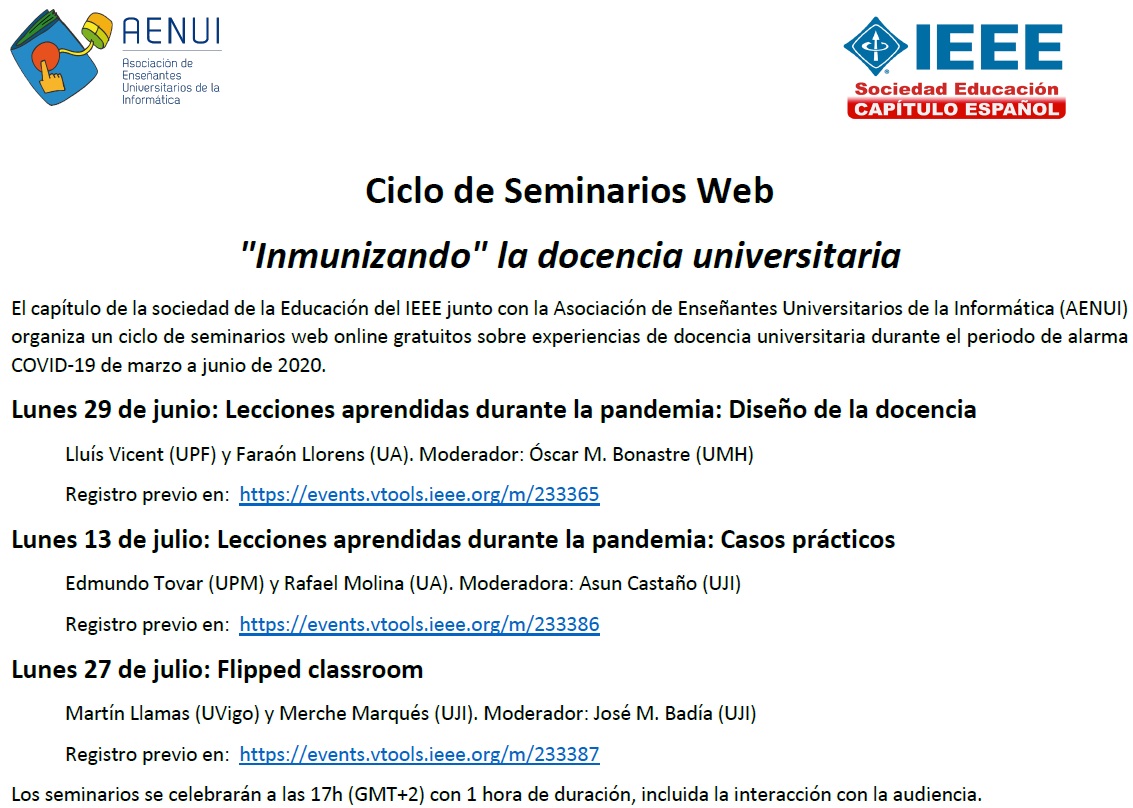 Con suficiente anterioridad a cada webinar, se enviará a los registrados el enlace de conexión
---
Date and Time
Location
Hosts
Registration
---
Date: 13 Jul 2020
Time: 05:00 PM to 06:00 PM
All times are (UTC+01:00) Madrid
Add Event to Calendar
Co-sponsored by

Capítulo Español de la sociedad de la Educación del IEEE - Asociación de Enseñantes Universitarios de la Informática (AENUI)
Starts 16 June 2020 03:45 PM
Ends 12 July 2020 10:00 PM
All times are (UTC+01:00) Madrid
No Admission Charge
---
Speakers

Edmundo Tovar
of Universidad Politécnica de Madrid (UPM)
Biography:
Profesor Titular de la Universidad Politécnica de Madrid (UPM) es doctor en Informática (1994) y Licenciado en Informática (1986) por la UPM. Es " Certified Software Development Professional" (CSDP) (2005 -) y "Professional Software Engineering Master Certification" (2015- ) por IEEE Computer Society.
Es miembro fundador de aenui, vocal de la Directiva del Colegio Profesional de Ingenieros en Informática de la Comunidad de Madrid, Academic Advocate of ISACA, Information Systems and Control Association y Delegado del Director de la ETS de Ingenieros Informáticos para el Programa de Profesionalismo en Tecnologías de la Información.
Trabaja en la gestión, investigación y promoción de Recursos Educativos Abiertos (OER). Líder de un Grupo de Innovación en la UPM centrado en OER y OpenCourseware coordinador de diferentes proyectos europeos sobre OER. Ha servido como miembro electo del Consejo de Directores del OpenCourseWare Consortium (2009-2013), Director Ejecutivo de la Oficina OpenCourseWare de la UPM (2008-2012) y Director Ejecutivo de la Oficina de Educación en Abierto de la UPM (2013-2016).
Es miembro de distintos comités de IEEE Educacional Activities Board, siendo actualmente Presidente electo de IEEE Education Society (2019-2020) y Presidente (2021-2022).

Rafael Molina
of Universidad de Alicante
Biography:
Rafael Molina-Carmona es Licenciado en Informática por la Universidad Politécnica de Valencia, y Doctor Ingeniero en Informática por la Universidad de Alicante y Premio Extraordinario de Doctorado en 2004. Actualmente es Profesor Titular de Universidad del departamento Ciencia de la Computación e Inteligencia Artificial de la Universidad de Alicante. Dirige el grupo de investigación "Smart Learning, Tecnologías Inteligentes para el Aprendizaje" y también es director del Laboratorio de Educación de la Unidad Científica de Innovación Empresarial "Ars Innovatio", de la Agència Valenciana de la Innovació en la Universidad de Alicante. Forma parte de GTI4U, equipo de investigadores y profesionales de las TI para la investigación e implantación de sistemas de gobierno de las TI y la transformación digital en las universidades. Es miembro de la Cátedra Santander-UA de Transformación Digital. Forma parte de AENUI, Asociación de Profesores Universitarios de Informática. Ha participado en más de 30 proyectos de Innovación Docente, siendo uno de los promotores de la experiencia de Aprendizaje Basado de Proyectos de Ingeniería Multimedia, una de las experiencias más potentes de ABP a nivel nacional. Sus intereses investigadores son, principalmente, las aplicaciones de la Inteligencia Artificial en diferentes campos, entre ellos el aprendizaje y la educación mejorados con la tecnología, incluyendo videojuegos, gamificación, analíticas de aprendizaje, sistemas inteligentes de aprendizaje y representación de la información.
---
Agenda
Introducción
Conferencia Rafael Molina (UA) "Las metodologías activas de aprendizaje en un modelo docente no presencial"
Conferencia Edmundo Tovar (UPM) "Experiencias de un enseñante universitario de Informática en confinamiento"
Interacción con la audiencia. Preguntas y respuestas
Conclusiones
Moderador: Asun Castaño (UJI)
---