IEEE WIE Montreal - International Women in Engineering Day 2020
---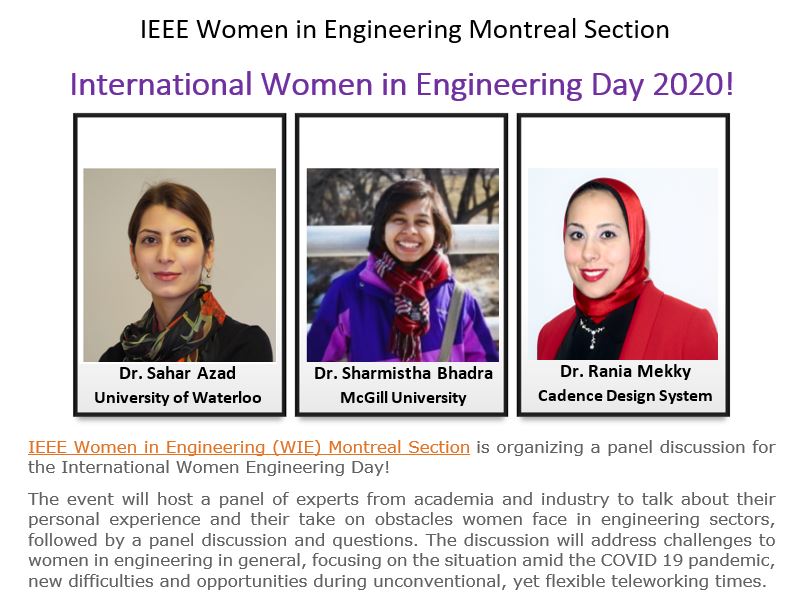 Join us for the International Women in Engineering Day 2020!
Join us on Google Meet:
https://meet.google.com/iwi-xxzr-jqi
Speakers :
Dr. Sharmistha Bhadra, received the B.Sc. degree in computer engineering from the University of New Brunswick, Fredericton, NB, Canada, and the M.Sc. and Ph.D. degrees in electrical engineering from the University of Manitoba, Winnipeg, MB, Canada. From 2015 to 2016, she was an NSERC Postdoctoral Fellow with the University of British Columbia, Vancouver, BC, Canada. She joined McGill University in 2016, where she is currently an Assistant Professor. She has published more than 46 articles and holds two patents in sensor and wearable area. Her current research interests are in the area of printed and flexible hybrid electronics, microelectromechanical systems, wearables and implants, sensors and actuators.
Dr. Sahar Azad, received her Ph.D. degree in Electrical Engineering, specialized in power systems, from University of Toronto, Toronto, Canada, in 2013. During her doctoral research, she focused on designing various control schemes for DC-segmented AC systems to prevent grid instability and large-scale blackouts. She was a post-doctoral fellow at the Centre for Applied Power Electronics (CAPE) at the University of Toronto in 2014. During her post-doctoral research, she focused on designing controllers with low communication requirements to improve multi-infeed HVDC systems stability. In 2015, she worked as an experienced researcher in the field of DC grid protection at the Katholieke Universiteit (KU) Leuven, Leuven, Belgium. Her research was a part of the multi-terminal DC grid for offshore wind (MEDOW) project; a Marie Curie initial training network funded by the European Commission. She worked as an Assistant Professor at the University of Alberta from October 2015 until December 2017. She joined the Department of Electrical and Computer Engineering at the University of Waterloo in 2018. Her research focuses on protection and control of power systems with embedded HVDC lines.
Dr. Rania Hassan Mekky, received the B.Sc. (Distinction with Honors) and M.Sc. degrees from Ain Shams University, Cairo, Egypt, in 2005 and 2009, respectively, and the Ph.D. degree from McGill University, Montreal, QC, Canada, in 2016, all in electrical engineering. She is currently a principal design engineer at Cadence Design System, Montreal, QC, Canada, where she is involved in developing high-performance advanced high-speed serial data links and high-speed I/O circuits and architectures in FinFET process technologies. From 2005 to 2008 she worked as an analog mixed-signal design engineer at Mentor Graphics (now acquired by Seimens), Cairo, Egypt, where she worked on the design of several systems such as integer-N and fractional-N PLLs for high-speed serial data links, and SerDes transmitters and receivers. From 2008 to 2009, she was with Newport Media Inc. (acquired by Atmel), Cairo, Egypt, where she designed CT-∑∆ ADCs for mobile TV and audio applications. Her research interests include data converter techniques (ADCs, DACs, and TDCs), sensing circuits, low-power mixed-signal circuits, high-speed serial data links, phase-locked loops, frequency synthesizers, and oscillators. Dr. Mekky has published eight technical articles and holds two granted patents. She received the Engineering Class of 1936 Award from McGill University. She serves as a reviewer for the IEEE Transactions on Circuits and Systems I (TCAS I), the IEEE Canadian Journal of Electrical and Computer Engineering, and for the IEEE International Symposium on Circuits and Systems (ISCAS).
---
Date and Time
Location
Hosts
Registration
---
Date: 30 Jun 2020
Time: 11:00 AM to 12:00 PM
All times are (GMT-05:00) EST
Add Event to Calendar
Starts 26 June 2020 03:00 PM
Ends 30 June 2020 12:00 PM
All times are (GMT-05:00) EST
No Admission Charge
---
---
Agenda
Introduction of Event and Panel Members
Dr. Sharmistha Bhadra
Dr. Sahar Azad
Dr. Rania Mekky
Panel Discussion and Questions for Panelists
Closing Remarks
---