Advantages of Combined Heat and Power - Lunch Series
---
When total electricity costs increase due to wildfires, droughts, or a disruption of the power grid there may be a viable alternative. Find out today if this CHP may be a potential for back up energy source when electricity rates spike.
---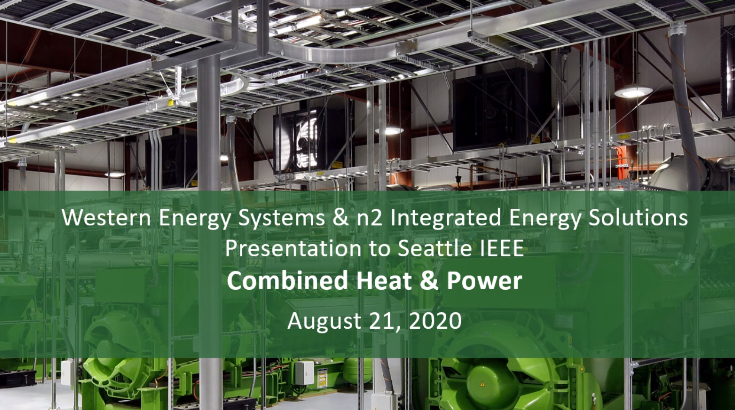 "Combined heat and power (CHP), also known as cogenera­tion, produces both electricity and thermal energy on-site [from a single source], replacing or supplementing electricity provided from a local utility and fuel burned in an on-site boiler or furnace. CHP systems increase energy security by producing energy at the point of use, and significantly improve energy efficiency." https://www.energy.gov/sites/prod/files/2017/12/f46/CHP%20Overview-120817_compliant_0.pdf
CHP does not replace the requirement for emergency back-up diesel generation. What it does is provide a reliable and sustainable energy source without fear of power shutdowns due to drastic weather conditions or other cause that might prompt a power outage for the grid.
The presentation will focus on the high costs of electricity and how an alternate strategy to reduce overall utility costs by taking advantage of the combined heat and power (CHP). The CHP systems offer considerable environmental benefits when compared with purchased electricity and thermal energy produced on site. By capturing and utilizing heat that would otherwise be wasted from the production of electricity, CHP systems require less fuel to produce the same amount of energy. Find out more on how you may be able use this technique to save costs and energy.
---
Date and Time
Location
Hosts
Registration
---
Date: 21 Aug 2020
Time: 12:00 PM to 01:00 PM
All times are US/Pacific
Add Event to Calendar
Starts 04 July 2020 05:16 PM
Ends 21 August 2020 10:00 AM
All times are US/Pacific
No Admission Charge
---
Speakers
Topic:
Combined Heat and Power
Dave Muller will discuss the combined heat and power cycle. Where electricity costs increase the CHP may be a viable option.
Biography:
I am a multidimensional quick study benefiting from the diversity of my professional career. My energy and focus are on doing my part to make a better world. I thrive on challenges at opening new markets domestically and internationally, building relationships, crafting strategies to boost business and articulating a compelling message that opens new opportunities.
Working at Western Energy Systems, I am focused on client development and recruitment, establishing long lasting relationships where we can provide solutions to energy related challenges.
My previous positions have focused on business development. I have traveled internationally on business development missions in Kenya, Botswana, Ghana, Aruba, China, Indonesia and Singapore introducing waste to energy opportunities. During those missions, I was engaged in discussions with city leaders as well as senior members of national governments, thriving on learning the customs and understanding their issues, while working collaboratively crafting ideas that would address their needs.
In my personal life, I am passionate about design, and travel to places outside my comfort zone for a chance to explore the unknown.
Specialties: Business development, government relations, business strategy, media relations, project management.
Email:
Address:499 Nibus Street , , Brea, California, United States, 92821
Phil Baldwin will discuss measures on Total Energy Savings.
Biography:
Twenty-Five years senior management/leadership positions in companies specializing in energy project development, design/engineering and construction.

Since 1998 career has been focused on Distributed Generation/Combine Heat & Power and Renewable Energy Projects in Agra Businesses the Food and Beverage and Manufacturing sectors.
Email:
Address:499 Nibus Street , , Brea, California, United States, 92821
---
Agenda
Announcements
Introduction of our speakers David Muller and Phil Baldwin from WES-NES
Presentation - Combined Heat and Power
Q&A
---
Lunch Series - Friday August 21, 2020 The Combined Heat and Power system may be a cost savings for you. Join us today to find out.
---