"Semiconductor Industry: Moore's Law and The Future of Computing" Meet the YP: Imdad Ullah
---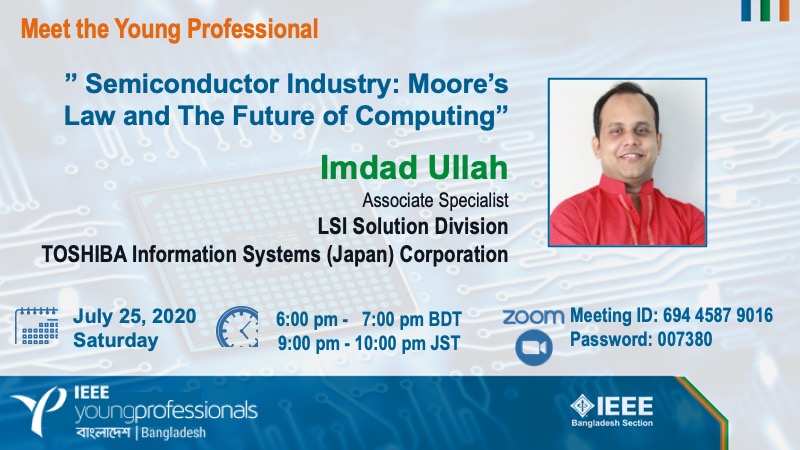 IEEE YP Bangladesh presents Meet the Young Professional webinar Series. Each week we invite a senior young professional who shares his/her current technical / research work, career path and prospects.
---
Date and Time
Location
Hosts
Registration
---
Date: 25 Jul 2020
Time: 06:00 PM to 07:00 PM
All times are (UTC+06:00) Astana
Add Event to Calendar
Zoom Meeting ID: 694 4587 9016
Password: 007380
Dhaka, Dhaka
Bangladesh
---
---
Speakers

Imdad Ullah
of Toshiba Japan
Topic:
Semiconductor Industry: Moore's Law and The Future of Computing
Biography:
Imdad completed his B.Sc. Degree in EEE from Bangladesh University of Engineering & Technology (BUET).
Currently, he is working as Associate Specialist in LSI Solution Division at TOSHIBA Information Systems (Japan) Corporation. Additionally, he is pursuing PhD in Information & Computer Science at KEIO University, Japan. His work & research interests include ASIC/SoC Design & Verification with Low-Power intent and High-Performance Reconfigurable Computing (HPRC).
Before joining TOSHIBA, he worked as Manager in the VLSI Design & Development Division at BJIT Inc, Japan. Prior to moving to Japan, he worked as ASIC/SoC Design Engineer at Bangladesh operation of PrimeSilicon Technology Inc, USA. He is proficient in IC Design Methodology and Electronics Design Automation (EDA) tools.
His Hobbies include Travelling, Volunteering, Watching Cricket.
Address:Japan
---