LaTeX Training Workshop
---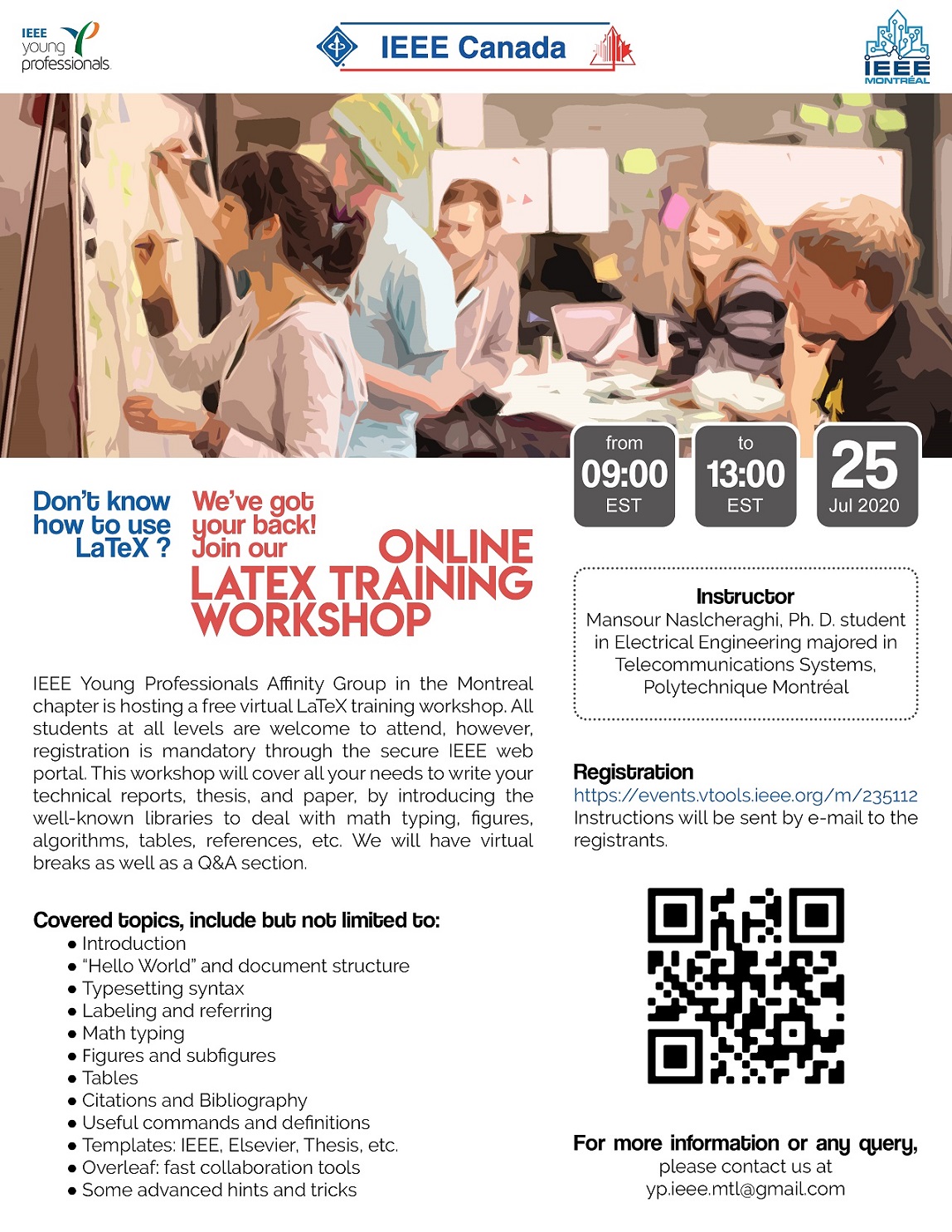 IEEE Young Professionals Affinity Group in the Montreal chapter is hosting a free virtual LaTeX training workshop. All students at all levels are welcome to attend, however, registration is mandatory through the secure IEEE web portal. This workshop will cover all your needs to write your technical reports, thesis, and paper, by introducing the well-known libraries to deal with math typing, figures, algorithms, tables, references, etc. We will have virtual breaks as well as a Q&A section.
Instructor: Mansour Naslcheraghi, Ph. D. student in Electrical Engineering majored in Telecommunications Systems, Polytechnique Montréal
M. Naslcheraghi received his M. Sc. degree in Electrical Engineering majoring in telecommunications systems from Shahid Beheshti University (SBU), Tehran, Iran, in 2017. His M. Sc. program has been co-supervised by the Informatics Center, King's College London (KCL), London, U.K. He conducted his research in his M. Sc. career mainly on wireless content distribution by utilizing full-duplex radios. In 2017, he joined, as a Visiting Research Scholar, the Amir Kabir University of Technology (AUT), Tehran, Iran, where he did research in mode selection and D2D communications. In 2018, he was in collaboration with Wireless@VT Research Group, Virginia Tech, Blacksburg, VA, USA, as an international collaborator with the focus on powerful mathematical tools from the Stochastic Geometry (SG). He is currently with the Electrical Engineering Department, Polytechnique Montreal, Montreal, QC, Canada, as a Ph. D. student. His main research interests include SG, Machine Learning, Unmanned Aerial Vehicle (UAVs), cellular communications, M2M/D2D communications, and full-duplex radios. He is also a member of the IEEE Communications Society.


To have a productive session, you need to have the following free software installed:
1- Full package of TeXlive (Recommended): https://www.tug.org/texlive/
2- MikTeX (in case if you failed to install "1"): https://miktex.org/download
3- The latest version of TeXstudio: https://www.texstudio.org/
4- PDF Reader (any working version): e.g., https://get.adobe.com/reader/
---
Date and Time
Location
Hosts
Registration
---
Date: 25 Jul 2020
Time: 09:00 AM to 01:00 PM
All times are Canada/Eastern
Add Event to Calendar
Starts 10 July 2020 11:27 AM
Ends 25 July 2020 07:00 AM
All times are Canada/Eastern
No Admission Charge
---
---
Agenda
Introduction
"Hello World" and document structure
Typesetting syntax
Labeling and referring
Math typing
Figures and subfigures
Tables
Citations and Bibliography
Useful commands and definitions
Templates: IEEE, Elsevier, Thesis, etc.
Overleaf: fast collaboration tools
Some advanced hints and tricks
---
* The workshop will be held online, and the instructions will be sent by email to registrants.
---