Aeronautical and Maritime Communications Eco-system
---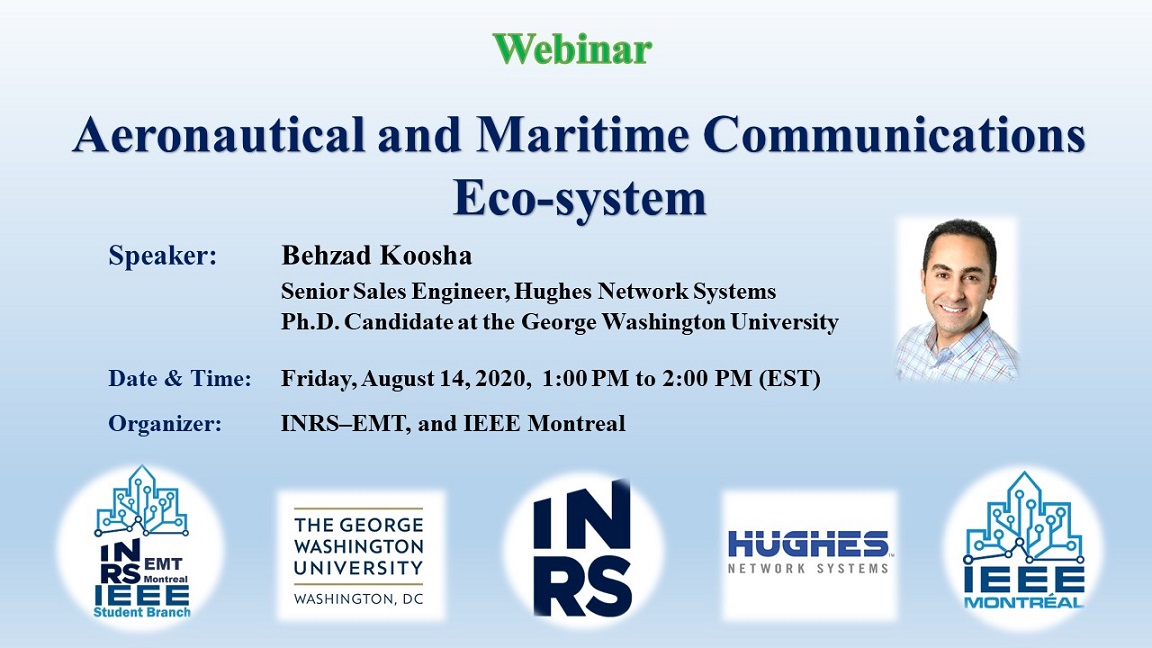 Description:
In this webinar, we will provide a general overview of aeronautical and maritime broadband satellite communications. We will go through different satellite constellations that are commercially available and discuss each constellation's benefits and limitations.
This webinar will discuss different operation altitudes for the satellite constellation and coverage areas that major satellite operators deploy for their daily activities. We plan to cover high-level information on aircraft and boat characteristics and how their mobility features must be compensated in the satellite communications environment.
We will also go over the design process and reflect on some recent R & D activities in this field. System constellations with terminals used at popular sites are reviewed. We will look at the integrated system design methodology and provide an overview of the market trends and challenges in the satellite communication mobility field.
Finally, different scenarios of in-flight entertainment and maritime satellite operations will be presented with a focus on network architecture and protocols commonly used for antenna terminals.
---
Date and Time
Location
Hosts
Registration
---
Date: 14 Aug 2020
Time: 01:00 PM to 02:00 PM
All times are (GMT-05:00) Canada/Eastern
Add Event to Calendar
The webinar will be done using the Zoom platform.

The link will be sent to registered attendees, before the event.
Starts 02 August 2020 12:05 AM
Ends 14 August 2020 11:59 AM
All times are (GMT-05:00) Canada/Eastern
No Admission Charge
---
Speakers
Biography:
Behzad KOOSHA received B.Sc., and M.Sc. degrees all in electrical engineering (communications) from Isfahan University of Technology, Isfahan, Iran in 2008, and CAU in Kiel, Germany in 2011, respectively.
He is currently a Ph.D. candidate at the department of electrical and computer engineering at the George Washington University in Washington DC, USA.
His research interests include satellite communications and cellular wireless networks.
He has over a decade of professional experience in the industry and is currently working as a senior sales engineer at Hughes Network Systems in Germantown, Maryland. Before that role, he worked at Intelsat, Sprint corporation and a few wireless consulting firms in the Washington metro region.
---