Graduate Life Myths and Reality
---
Are you interested in graduate studies and do not know how to get there? Did you hear so much misinformation, and you are confused about it? You are currently a graduate student, and it is overwhelming for you? No worries, IEEE ETS Student Branch is here to help you out!
---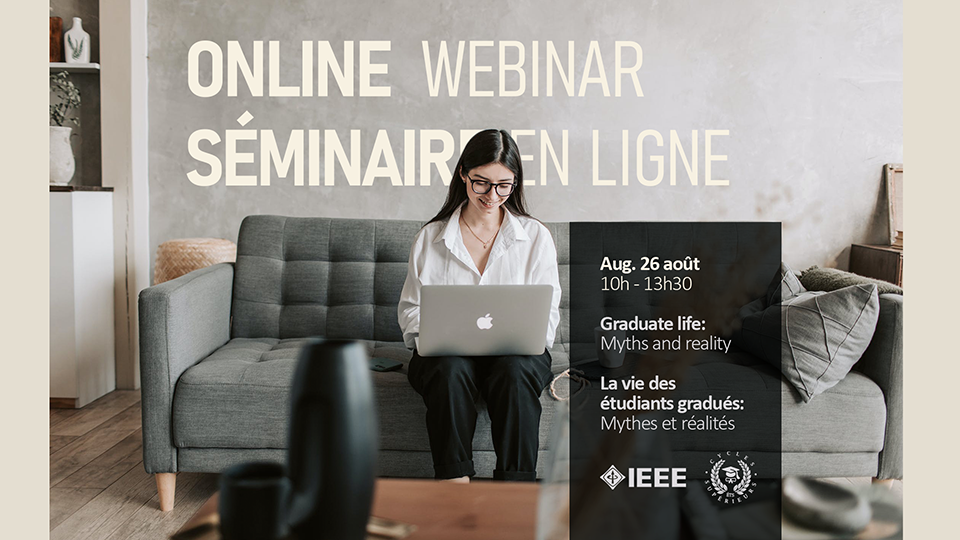 We present our online webinar entitled 'Graduate life: Myths and realities' that will bring answers to all your questions. You are invited to join us from wherever you are, on August 26th, from 10 am to 13:30 pm.


---
Date and Time
Location
Hosts
Registration
---
Date: 26 Aug 2020
Time: 10:00 AM to 01:30 PM
All times are EST
Add Event to Calendar
If you are not a robot, please complete the ReCAPTCHA to display virtual attendance info.

---
---
---
Agenda
Time

Section

Speaker

10:00 – 10:05

Presentation of IEEE ETS Student Branch

Christian Miranda
IEEE ETS chair

10:05 – 10:25

1. How to apply for a graduate position?

Sadia Khaf

IEEE ETS vice-chair

10:25 – 12:00

2. How to succeed in your graduate studies?

2.1. How to approach your course?

Imene Romdhane

IEEE ETS secretary

2.2. How to start your first paper?

Prasun Lala

SARA ETS Director

2.3. How to manage stress? (in French)

Mrs. Francine Brochu

Conseillère en aide et soutien à l'apprentissage

2.4. Experience from a post-graduate student?

Round Table :

Ruben Lopez

Postdoc fellow at McGill University

Sahabul Alam

Postdoc fellow at Carleton University

12:00 – 12:20

Break

12:20 – 12:45

3. How to access material and financial resources?

3.1. How to obtain scholarships?

Christian Miranda
IEEE ETS chair

3.2. How to access IT resources?

Jorge Ramos

IEEE ETS Treasurer

12:45 – 13:05

4. How to get a job after graduation?

Round Table :

Sahabul Alam

Postdoc fellow at Carleton University

Bassant Selim

Data Scientist

Ericsson

13:05 – 13:30

5. Discussion Panel (Q&A)

Prasun Lala

SARA Director
---
If you are interested please fill the registration form.
Don't miss out on our event and come join us on 26th August 2020 at 10 AM with your full energy. This event has been prepared by students for students.
---