Oregon ComSoc: Overview of CBRS Standards and Commercialization of OnGo 4G and 5G Services
---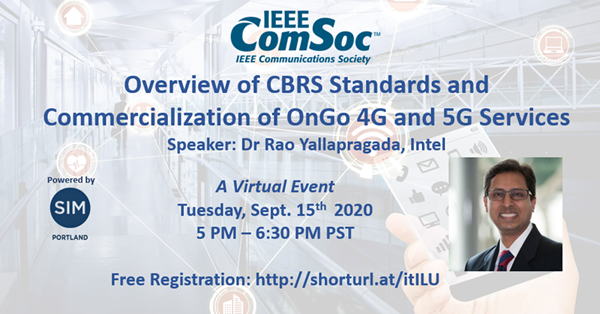 OnGo has lighted up a new trail in spectrum policy opening tremendous new market opportunities along the way for traditional operators and new entrants alike. The novel approach to spectrum sharing opened doors to 150 MHz of favorable spectrum for mobile communications in CBRS 3.5 GHz band enabling both in-building wireless and outdoor mobile coverage and capacity expansion at a lower cost. A sizeable swath of prime spectrum, a new innovative flexible spectrum licensing regime, and a growing OnGo ecosystem supported by major operators and several new players bodes well for technology and business innovations in the 3.5 GHz band.
The Federal Communications Commission earlier this year authorized commercialization of OnGo services unlocking the 3.5GHz CBRS band setting in motion a novel approach to deliver faster, more reliable cellular data connectivity for compatible devices. The FCC has further issued a Public Notice to auction Priority Access Licenses in the 3.5 GHz band to begin July 23, 2020, for increased investment and deployment in the mid-band spectrum for 5G.
This presentation will provide an update of the current status of the CBRS Standards, an overview of the coexistence mechanisms adopted for shared spectrum, commercialization and deployment of OnGo Services and the Market traction of pertinent use cases. The presentation will also cover the market adoption of different CBRS business models for enterprises in Private networks and Neutral hosts.
Biography
Rao Yallapragada is a Program Director of Advanced Technologies at Intel Corporation with a primary focus on new innovations in Wireless Communications. As a wireless industry professional, he has a distinguished career in product development and management. Rao's current focus is with new initiatives in 5G based Distributed Computing and Connectivity technologies particularly targeted to major industry verticals. He also serves as a Vice-Chairman of the Board of the CBRS Alliance and as Board of Directors at 5G Americas.
Previously, as part of Qualcomm's Research division, Dr. Yallapragada held several technical leadership positions in Qualcomm in the areas of Wireless system design and SoC product development. He made significant contributions to the development of HSPA, LTE and 1xEV technologies and products ranging from device modems to small cells.
Dr. Yallapragada published several academic papers and holds several patents in wireless communications. Dr. Yallapragada received his Ph.D. and Masters in Electrical Engineering from Georgia Institute of Technology, Atlanta, and holds an MBA from the University of Southern California.
---
Date and Time
Location
Hosts
Registration
---
Date: 15 Sep 2020
Time: 05:00 PM to 06:30 PM
All times are (GMT-08:00) US/Pacific
Add Event to Calendar
register at https://simnet.zoom.us/webinar/register/WN_uz_LIXuWSPyx5oR-T3pEJw
Co-sponsored by

Pradeep Kumar
---
---
Agenda
5:00 PM: Introductions and housekeeping
5:15 PM Speaker Introductions, Talk followed by Q&A
6:30 PM Close
---