IEEE Symposium on Data Analytics and Internet of Things
---
CALL FOR POSTERS
3-MINUTE IGNITE PRESENTATIONS
---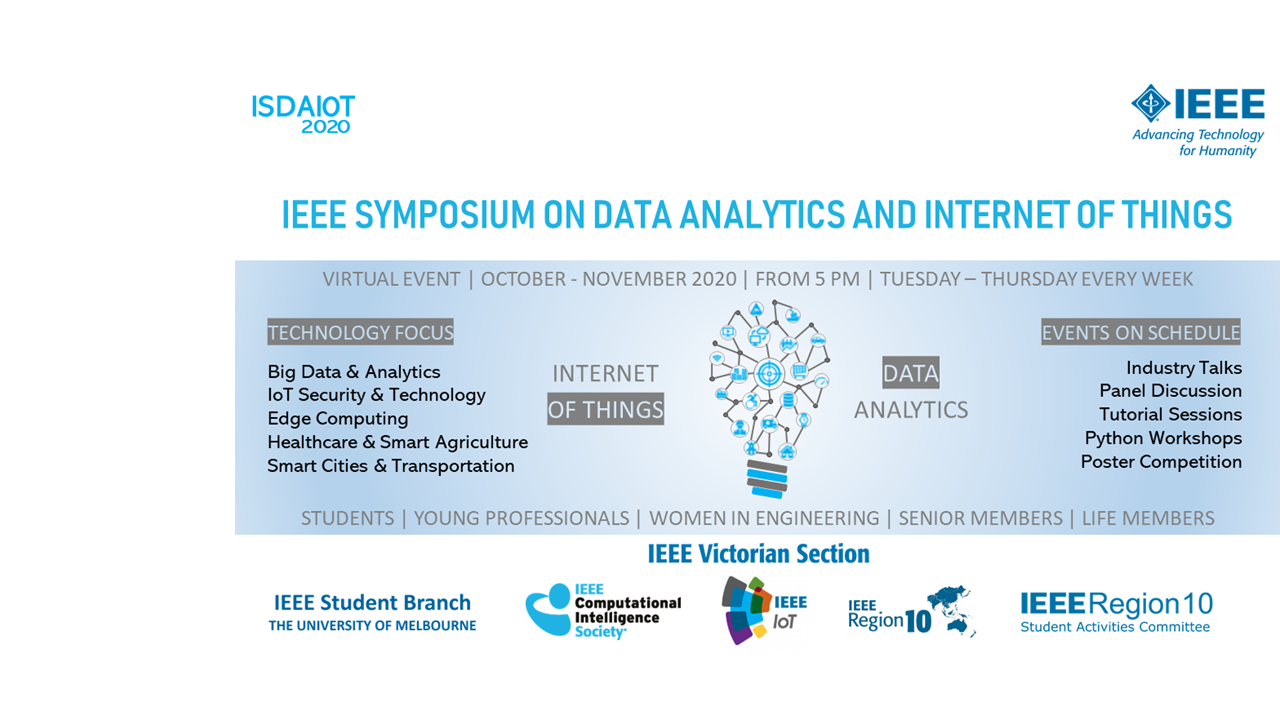 IEEE Victorian Section presents "IEEE Symposium on Data Analytics and Internet of Things (ISDAIOT 2020)", a virtual technical event series during 29th September - 19th November 2020. The symposium includes diverse sessions including technical talks, workshops, poster competitions and panel discussions to promote the use of Data Analytics and IoT Technologies for real-time applications. This symposium provides a unique opportunity for industry and academic experts as well as students to get an insight on Data Analytics and Internet of Things, through a series of presentations and hands-on workshops, delivered by experts in the field. The talks will be held for an hour every Tuesday (5.00-6.00 PM) and Wednesday (6.00-7.00 PM), beginning from 29th September while the two-hour hands-on data analytics workshop will be delivered from the second Thursday of October (October 8, 2020, 5.00-7.00 PM). This event is jointly organized by the Computational Intelligence Society, Internet of Things Community and University of Melbourne Student Branch under IEEE Victorian Section with the sponsorship of Student Engagement Grant - the University of Melbourne, IEEE Victorian Section and Region 10 Membership and Leadership Training Fund.
---
Date and Time
Location
Hosts
Registration
---
Start time: 17 Nov 2020 05:00 PM
End time: 19 Nov 2020 08:00 PM
All times are Australia/Melbourne
Add Event to Calendar
Zoom link will be emailed to the registered participants closer to the event.
Melbourne, Victoria
Australia
---
Co-sponsored by

Victorian Section
Starts 14 September 2020 10:00 AM
Ends 30 October 2020 10:00 AM
All times are Australia/Melbourne
No Admission Charge
---
---
Agenda
In addition to technical talks and workshops at ISDAIOT 2020, The Program Committee is inviting students/graduates for 3-Minute Ignite Presentations: poster submissions along with a short recorded video presentation of not more than three minutes. The main focus of posters should be in data analytics, internet of things (IoT) and applications and could discuss novel ideas in IoT technology or demonstrate emerging engineering tools to combat COVID-19.
Participants are encouraged, but not limited to, considering the following categories:
New, original research works focusing on data analytics or IoT applications.
Innovative engineering ideas or designs to combat COVID-19.
The posters are assessed and reviewed by panel members, and awards will be considered for top posters in students, early-career researcher and industry/academic professional categories, separately. Please note that:
You may submit more than one poster.
Early submissions are highly recommended.
Posters that involve joint authorship with students, industry and community partners are encouraged.
Presenter Terms & Conditions
All participants must register for the Symposium.
Students and Postdocs are encouraged to apply.
Ignite presentations must be recorded by the named authors. Proxies will not be permitted.
The Organising Committee reserves the right to accept or refuse any proposal.
Make your submission here.
Last Date: 30th October 2020
---