Nanoplasmonics: Reaching out to the Single Molecule
---
Online Distinguished Lecture:
---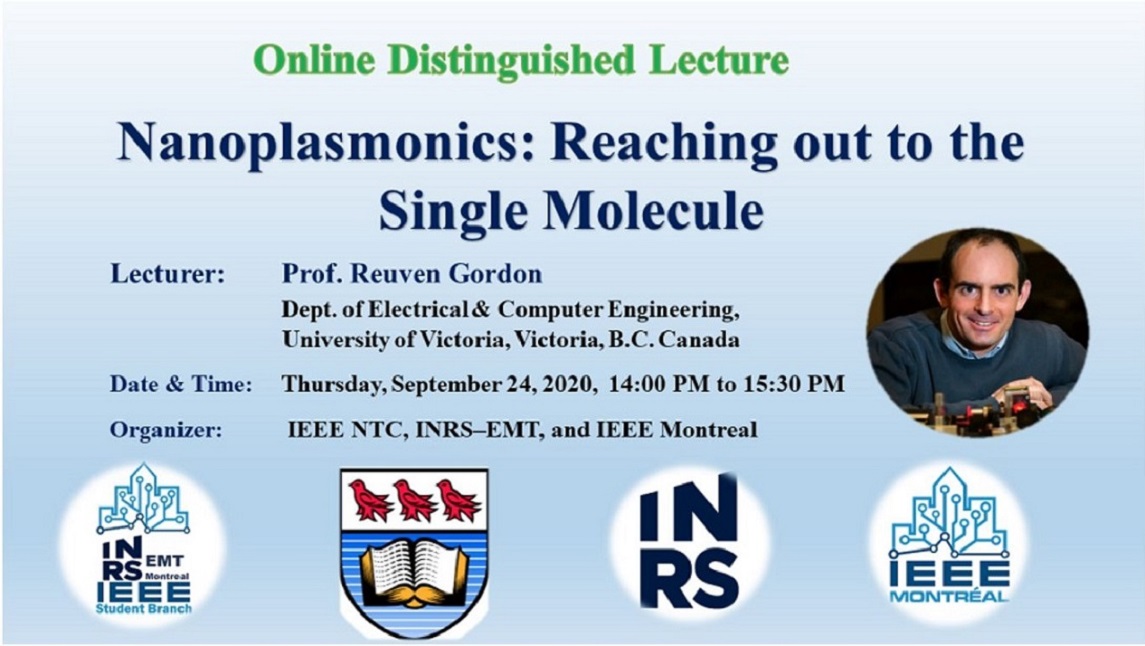 Arthur Ashkin was co-recipient of the Nobel prize in 2018 for his work on optical tweezers; however, those conventional optical tweezers are limited to objects that are >100 nm in size. This talk will review our work on nanoaperture optical tweezers that can trap particles down to the single-digit nanometer size, including proteins. I will describe how to measure the low-frequency Raman modes of these particles (including proteins and DNA fragments) with the high spectral resolution, as well as the THz dynamics of nanoparticles. I will emphasize recent developments in nanofabrication and some exciting biophysical problems we are studying.
---
Date and Time
Location
Hosts
Registration
---
Date: 24 Sep 2020
Time: 02:00 PM to 03:30 PM
All times are (GMT-05:00) Canada/Eastern
Add Event to Calendar
The webinar will be done on the
Zoom platform.
The link will be sent to registrants
before the event.
---
Starts 15 September 2020 10:22 PM
Ends 24 September 2020 12:30 PM
All times are (GMT-05:00) Canada/Eastern
No Admission Charge
---
Speakers

Prof. Reuven Gordon
of University of Victoria
Biography:
Reuven Gordon is a Professor in the Department of Electrical and Computer Engineering, University of Victoria.
He has received a Canadian Advanced Technology Alliance Award (2001), the Accelerate BC Industry Impact Award (2007), an AGAUR Visiting Professor Fellowship (2009), the Canada Research Chair in Nanoplasmonics (2009-2019), the Craigdarroch Silver Medal for Research Excellence (2011), a Fulbright Fellowship (2016), an NSERC Discovery Accelerator (2017), the Faculty of Engineering Teaching Award (2017) and a JSPS Invitational Fellowship (2020). He is a Fellow of the Optical Society of America (OSA), the Society for Photographic Instrumentation Engineers (SPIE), and the Institute for Electrical and Electronics Engineers (IEEE).
Dr. Gordon has authored and co-authored over 170 journal papers (including 13 invited contributions). He is a co-inventor for five patents and two patent applications. Dr. Gordon is a Professional Engineer of BC. Dr. Gordon has been recognized as an " Outstanding Referee" by the American Physical Society. He has also served as a conference chair for several conferences, including SPIE NanoScience + Engineering and NFO16. Dr. Gordon is an Associate Editor for Optics Express and on the Editorial Advisory Board for Advanced Optical Materials.
---