Changes to the NFPA 70E 2021 - Capacitors Electrical Safety
---
Changes to the NFPA 70E 2021 Capacitors- Be aware, be knowledgeable on these important updates to electrical safety in your workplace.
---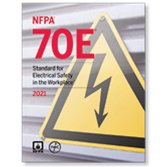 Join us for a presentation on Changes to the NFPA 70E 2021 - Capacitors. We will discuss:

Informative Annex R Working with Capacitors
Labeling Requirements for Capacitors
Shock, Short Circuit, Thermal, Arc Flash, and Arc Blast Hazard for Capacitors
Determining Capacitor Stored Energy
Capacitor Discharge of the Line *** LIVE DEMONSTRATION ***
---
Date and Time
Location
Hosts
Registration
---
Date: 06 Nov 2020
Time: 12:00 PM to 01:00 PM
All times are US/Pacific
Add Event to Calendar
Seattle Washington LIVE STREAM
LIVE STREAM EVENT
Seattle
United States 98125
Starts 30 September 2020 08:04 AM
Ends 06 November 2020 12:00 PM
All times are US/Pacific
No Admission Charge
---
Speakers

Mike Brisbois
of Salas O'Brien
Topic:
NFPA 70E Changes 2021
Over 35 years in the industry Mike performed over +100 arc flash studies for the FAA including Honolulu, Anchorage and Phoenix. He maintained current incident energies for over 1,600 devices at the Naval Shipyard Bremerton Washington with the Navy. At Sigma Six Solutions he performed an arc flash study for the CH2MHill wastewater facility in Vancouver Washington. Mike did presentations for the IEEE Power and Energy Society March 10, 2010 and for all the electricians +80 at the Puget Sound Naval Shipyard. He created arc flash reports using software packages including Paladin EDSA, SKM, eTap and Easy Power. Mike has written MOPs, LO/TO procedures, and test scripts to ensure operation of electrical systems performed as planned. He specified major electrical switchgear including Eaton, Cutler Hammer, Schneider Electric and GE. Having worked for Siemens and performed several hundred coordination studies to ensure faults stay local versus taking out the whole facility. In addition to harmonics studies Mike has written insulation resistance, megger, and continuity testing procedures while at Sigma Six Solutions and Kennedy Space Center. Mike has an MBA, BSEE from Florida Institute of Technology.

The LIVE STREAM presentation will focus on the changes to the NFPA 70E 2021 - Informative Annex R Capacitors Electrical Safety.
RSVP today for our lunch presentation at mike.brisbois@salasobrien.com
Biography:
Design Electrical Engineer for Salas O'Brien.
Email:
Address:Seattle, Washington, United States, 98125
---
Agenda
Announcementes 12-12:02 pm
Introduction of the speaker 12:02-12:05 pm
Changes to the NFPA 70E - Electrical Safety in the Workplace Capacitors Electrical Safety 12:05 - 12:35 pm
Live Demonstration 12:45 pm
Q&A 12:50
---
Stay up to date with the latest important safety protocols that have evolved over the last 3 years. Understand and adopt these new electrical safety standards to make your work place safer. This lunch session will mainly focus on Informative Annex R Capacitors Electrical Safety. Sign up Today!
---