IEEE ComSoc Argentina Open Webinar
---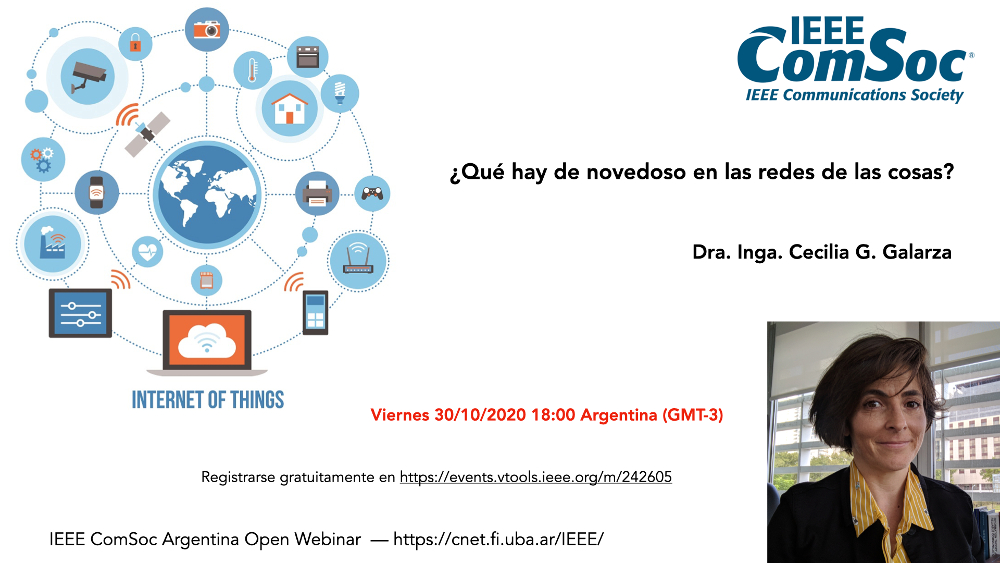 Seminarios mensuales sobre comunicaciones brindados por profesionales en Argentina. Se realizan en idioma castellano y son abiertos.
---
Date and Time
Location
Hosts
Registration
---
Date: 30 Oct 2020
Time: 06:00 PM to 07:00 PM
All times are (UTC-03:00) Buenos Aires
Add Event to Calendar
If you are not a robot, please complete the ReCAPTCHA to display virtual attendance info.

https://cnet.fi.uba.ar/IEEE/

Co-sponsored by

Centro de Simulación Computacional para Aplicaciones Tecnológicas -- CONICET
Starts 09 October 2020 10:00 AM
Ends 30 October 2020 05:00 PM
All times are (UTC-03:00) Buenos Aires
No Admission Charge
---
Speakers

Dra. Inga. Cecilia Galarza
of CONICET
Topic:
¿Qué hay de novedoso en las redes de las cosas?
Desde hace varios años, expertos en el área de comunicaciones están dedicados al desarrollo de una plataforma llamada Internet de las cosas (IoT – Internet of Things). La misma es una extensión de las redes de sensores inalámbricos, pero ahora con la habilidad de conectar en una misma red una cantidad muy grande de dispositivos que interactúan entre sí. El despliegue de estas redes munidas de sensores apropiados, permite la recolección de grandes cantidades de datos y su posterior uso para modelado de sistemas, toma de decisiones, etc. Por ejemplo, en una planta industrial, el despliegue de una miríada de sensores conectados entre sí y transmitiendo en tiempo real, permitiría modelar el consumo de la planta, el funcionamiento de los equipos, su interacción con las personas, etc. Pero desde el punto de vista de las comunicaciones, cuáles son los nuevos desafíos que se abren en este campo? En esta charla se dará un pantallazo de algunas de las nuevas aplicaciones que se avisoran en el campo de IoT y el impacto que han tenido en el desarrollo de nuevas tecnologías de comunicaciones.
Biography:
Cecilia Galarza es Ing. Electrónica egresada de la Facultad de Ingeniería de la UBA. Realizó su doctorado en la Universidad de Michigan, EEUU y recibió su PhD. en Electrical Engineering en Enero de 1999. Desde su regreso al país en el año 2003 trabaja en la FIUBA donde es Profesora Asociada. En la actualidad, dirige el Centro de Simulación Computacional (CSC – CONICET). Sus intereses en investigación están en el área de ingeniería de la información y las comunicaciones.
Email:
Address:Godoy Cruz 2390, C1425FQD, Buenos Aires, Argentina
---
Agenda
18:00 Presentación a cargo de José Ignacio Alvarez-Hamelin (ComSoc Argentina Chair)
18:05 ¿Qué hay de novedoso en las redes de las cosas? (Cecilia Galarza)
18:50 Preguntas y comentarios
---