EMP/IEMI Governance and Mitigation Strategies - A LIVE Webinar
---
The Los Angeles and Central Texas EMC Chapters welcome you to attend a LIVE WEBINAR on the topic EMP/IEMI Governance and Mitigation Strategies
---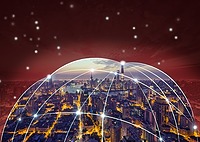 Join us at this free to attend LIVE webinar with industry experts in the field of Electromagnetic Pulse (EMP) and Intentional Electromagnetic Interference (IEMI). All IEEE members and guests are welcome to attend.
In addition to our speakers shown below, we are honored to have Professor Edl Schamiloglu as our moderator for the LIVE Q&A following the presentations. Professor Schamiloglu received the B.S. degree from the Applied Physics and Applied Mathematics Department at Columbia University, NY, in 1979; he received the M.S. degree in Plasma Physics from Columbia University in 1981; he received the Ph.D. degree in Engineering (minor in Mathematics) from Cornell University, Ithaca, NY, in 1988. He joined the University of New Mexico (UNM) as Assistant Professor in 1988 and he is currently Distinguished Professor of Electrical and Computer Engineering and Associate Dean for Research and Innovation in the School of Engineering. Professor Schamiloglu is a Fellow of the IEEE, a Fellow of the American Physical Society, and an EMP Fellow (sponsored by the Summa Foundation). Click here to register.
---
Date and Time
Location
Hosts
Registration
---
Date: 11 Nov 2020
Time: 10:30 AM to 12:00 PM
All times are (GMT-05:00) US/Eastern
Add Event to Calendar
---
Speakers

Joel Kellogg
of ETS-Lindgren
Topic:
EMP/IEMI Governance and General Mitigation Strategies
Abstract: This presentation will begin with a review of electromagnetic pulse (EMP) and intentional electro-magnetic interference (IEMI). Current governance and regulations will be discussed including their impact on industries defined by the US Government as critical infrastructure. The presentation will conclude with a general overview of mitigation strategies to protect against EMP and IEMI events, including some unique products and solutions deployed by some facilities identified as critical infrastructure.
Biography:
Joel Kellogg is the Director of Business Development for Healthcare, Industrial and Government shielding products and services with ETS-Lindgren, based at the company's headquarters in Cedar Park, Texas. He has over 20 years of design, production and management experience for healthcare, government and institutional projects. Joel's experience includes the development of EMI active cancellation systems for the reduction electromagnetic interference to MRIs and electron microscopy systems, the development of data acquisition systems for the measurements of EMI, vibrations, and acoustics, and the development of shielding products. Joel is also knowledgeable in many areas of site planning for radiology, laboratory and industrial equipment including electromagnetic (EMI), radio frequency (RF), and radiation shielding and environmental aspects including vibration, acoustic, and electromagnetic interference requirements. Currently, Joel's focus is advancing the shielding technology of products and services for Healthcare, Industrial, and Government customers along with driving shielding product roadmaps for ETS-Lindgren. He received his Master of Business Administration (MBA) from the Keller Graduate School of Management in 2007 and his Bachelor of Science, Electrical Engineering (BSEE) from the University of Wisconsin – Madison in 1998.
Email:
Address:Cedar Park, Texas, United States

Eric Easton
of CenterPoint Energy
Topic:
EMP Mitigation for Electrical Substations
Abstract: This presentation will provide an overview of the design and implementation of an EMP solution for electrical substations. The design process included the review of potential electromagnetic environments associated with Geomagnetic Disturbances (GMD), High-Altitude Electromagnetic Pulse (HEMP) and Intentional Electromagnetic Interference (IEMI). The final solution is a compact digital substation design which exceeds the attenuation levels of MIL-188-125. The cost effective design is applicable to new and retrofit applications and avoids compromising the reliability of existing power substation functions. Performance was confirmed with comprehensive testing at both the component and system level.
Biography:
Eric Easton, Ph.D., P.E. has performed various roles in T&D System design and operations including T&D System Planning, System Protection, Asset Management and Substation Engineering. He is presently Director of the CenterPoint Energy Real-Time Operations organization responsible for Transmission System Operations. During his career Eric has led a number of design and process innovation initiatives including 3D substation design, relay panel redesign, IEC 61850, Asset Life Cycle Analytics, QA/QC program development, and EMP Mitigation. He received a Ph.D. in Systems and Engineering Management from Texas Tech University, Master of Business Administration from the University of Nebraska at Omaha and BS degree in Electrical Engineering from Prairie View A&M University. Eric is a registered Professional Engineer in the State of Texas. He is the author or co-author of several refereed papers on HEMP, EMP, and IEMI, including two that were designated as Best Paper Candidates at the 2020 IEEE International Virtual Symposium on Electromagnetic Compatibility and Signal/Power Integrity (EMC+SIPI).
Email:
Address:Houston, Texas, United States
---
Agenda
11:00 am EST Welcome and Announcements, Professor Edl Schamiloglu, University of New Mexico
11:05 am EMP/IEMI Governance and General Mitigation Strategies By Joel Kellogg, Director of Healthcare, Industrial and Government Shielding, ETS-Lindgren, Austin, Texas
11:30 am EMP Mitigation for Electrical Substations By Eric Easton, Ph.D., P.E., Director of Real-Time Operations, CenterPoint Energy, Houston, Texas
12:10 pm Q&A with the speakers, moderated by Professor Schamiloglu
12:30 pm Wrap Up/Final Comments
---
Register at: https://attendee.gotowebinar.com/register/1263385450100358671
---