How we evolve to a RAN Smart edge
---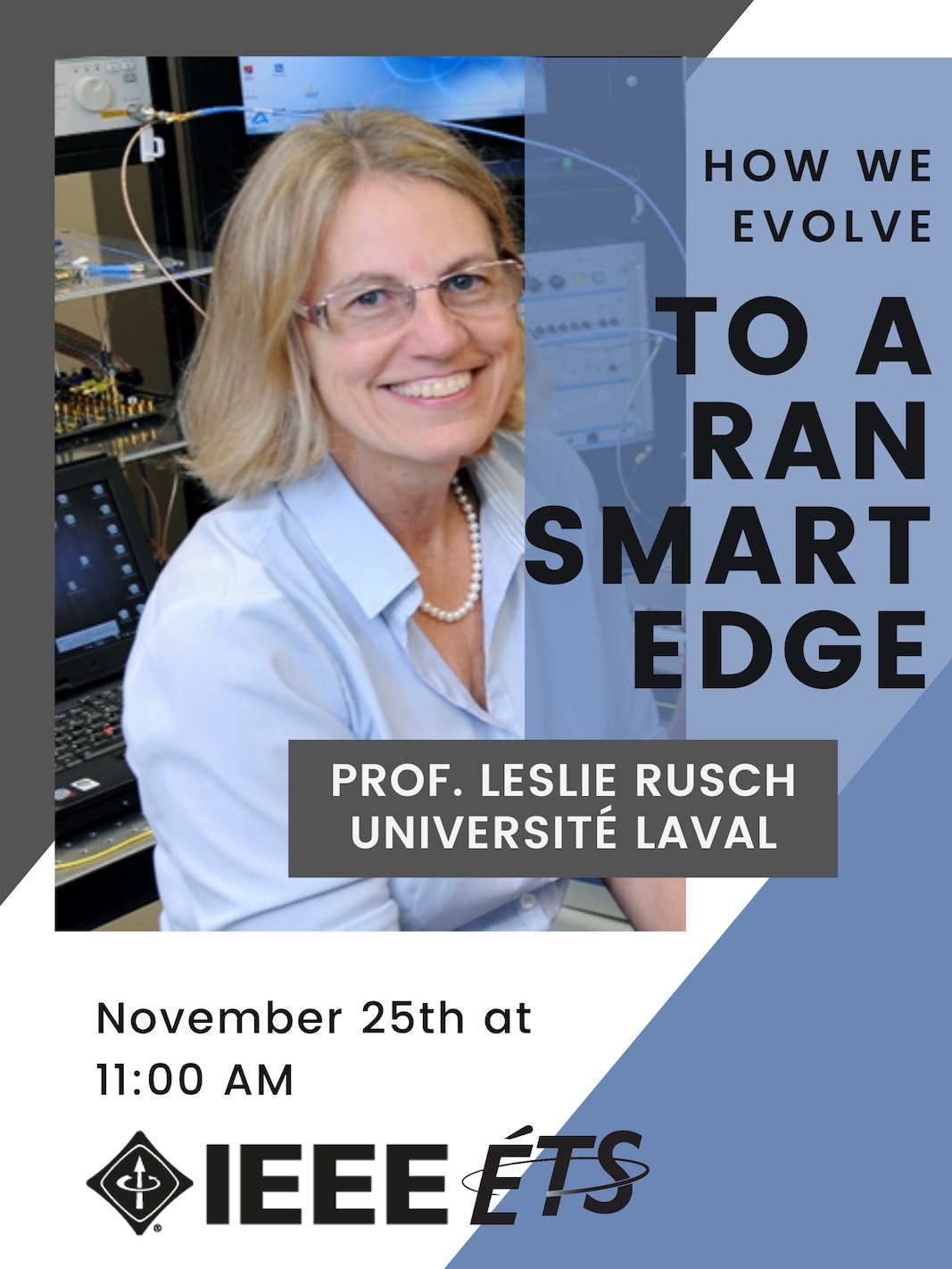 Silicon Photonics for 5G Communications
---
Date and Time
Location
Hosts
Registration
---
Date: 25 Nov 2020
Time: 11:00 AM to 12:15 PM
All times are (GMT-05:00) Canada/Eastern
Add Event to Calendar
The virtual link will be sent to the attendees one day before the day of the event
Montreal, Quebec
Canada J4R1R7
---
Starts 27 October 2020 09:10 AM
Ends 25 November 2020 11:01 AM
All times are (GMT-05:00) Canada/Eastern
No Admission Charge
---
Speakers
Topic:
How we evolve to a RAN Smart edge
Silicon Photonics for 5G Communications
Biography:
Leslie Ann Rusch (S'91–M'94–SM'00) received the B.S.E.E. degree (with honors) from the California Institute of Technology, Pasadena, in 1980 and the M.A. and Ph.D. degrees in electrical engineering from Princeton University, Princeton, NJ, in 1992 and 1994, respectively. From 2001 to 2002, she was the Manager of a group researching new wireless technologies at Intel Corporation. She is currently a Full Professor with the Department of Electrical and Computer Engineering, Université Laval, Québec, QC, Canada, performing research in wireless and optical communications. Her research interests include optical code-division multiple access (OCDMA) using non coherent sources for metropolitan area networks; semiconductor and erbiumdoped optical amplifiers and their dynamics; and wireless communications and high-performance reduced complexity receivers for ultrawideband systems employing CDMA.
Address:Quebec, Canada
---
Agenda
Introduction
What can we gain with a RAN Smart Edge?
How can we exploit a deployed PON for RAN?
Can silicon Photonics enable a RAN Smart Edge?
Where do we stand now?
Is it really that Simple?
Q&A section
---