Hands-on AI for Humanitarian Technology: Health Applications "Session 2"
---
IEEE SIGHT (Special Interest Group on Humanitarian Technology) of Montreal Section invites you to celebrate the Global IEEE SIGHT Week! Join us for the second session of the virtual workshop "Hands-on AI for Humanitarian Technology: Health Applications".
---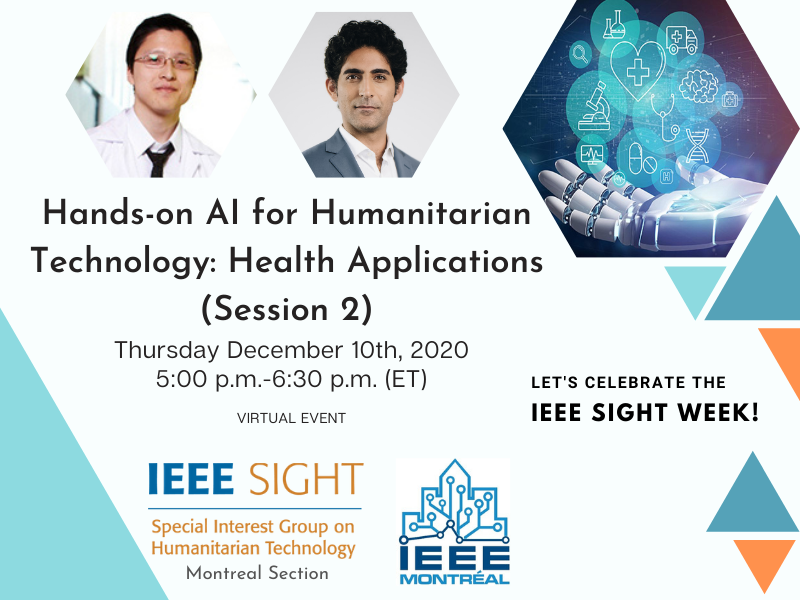 If you would like to know guidelines on how to effectively apply Artificial Intelligence (AI) to concrete humanitarian challenges in our community, you cannot miss this event. AI is a buzzword nowadays… but, especially for non-experts, many questions might not be easy to answer, such as:
What tools and datasets are available, especially for healthcare solutions?

How to collect your data?

What are the best practices to build an effective AI system?

Are there any successful projects already implemented in Canada?
Hopefully, by understanding the principles and knowing about successful applications from outstanding experts in this field, you will be motivated to develop projects that solve problems that matter in our society.
---
Date and Time
Location
Hosts
Registration
---
Date: 10 Dec 2020
Time: 05:00 PM to 06:30 PM
All times are (GMT-05:00) Canada/Eastern
Add Event to Calendar
Starts 21 November 2020 09:30 AM
Ends 10 December 2020 03:00 PM
All times are (GMT-05:00) Canada/Eastern
No Admission Charge
---
Speakers
Topic:
Tools, Datasets and Best Practices for AI/ML Projects
Biography:
Alexander Wong, P.Eng., is currently the Canada Research Chair in Artificial Intelligence and Medical Imaging, Member of the College of the Royal Society of Canada, co-director of the Vision and Image Processing Research Group, and an associate professor in the Department of Systems Design Engineering at the University of Waterloo. He had previously received the B.A.Sc. degree in Computer Engineering from the University of Waterloo, Waterloo, ON, Canada, in 2005, the M.A.Sc. degree in Electrical and Computer Engineering from the University of Waterloo, Waterloo, ON, Canada, in 2007, and the Ph.D. degree in Systems Design Engineering from the University of Waterloo, ON, Canada, in 2010. He was also an NSERC postdoctoral research fellow at Sunnybrook Health Sciences Centre. He has published over 550 refereed journal and conference papers, as well as patents, in various fields such as computational imaging, artificial intelligence, computer vision, and multimedia systems.
In the area of computational imaging, his focus is on integrative computational imaging systems for biomedical imaging (inventor/co-inventor of Correlated Diffusion Imaging, Compensated Magnetic Resonance Imaging, Spectral Light-field Fusion Micro-tomography, Compensated Ultrasound Imaging, Coded Hemodynamic Imaging, High-throughput Computational Slits, Spectral Demultiplexing Imaging, and Parallel Epi-Spectropolarimetric Imaging). In the area of artificial intelligence, his focus is on operational artificial intelligence (co-inventor/inventor of Generative Synthesis, evolutionary deep intelligence, Deep Bayesian Residual Transform, Discovery Radiomics, and random deep intelligence via deep-structured fully-connected graphical models).
He has received numerous awards including three Outstanding Performance Awards, a Distinguished Performance Award, an Engineering Research Excellence Award, a Sandford Fleming Teaching Excellence Award, an Early Researcher Award from the Ministry of Economic Development and Innovation, a Best Paper Award at the NIPS Workshop on NIPS Workshop on Transparent and Interpretable Machine Learning (2017), a Best Paper Award at the NIPS Workshop on Efficient Methods for Deep Neural Networks (2016), two Best Paper Awards by the Canadian Image Processing and Pattern Recognition Society (CIPPRS) (2009 and 2014), a Distinguished Paper Award by the Society of Information Display (2015), three Best Paper Awards for the Conference of Computer Vision and Imaging Systems (CVIS) (2015,2017,2018), Synaptive Best Medical Imaging Paper Award (2016), two Magna Cum Laude Awards and one Cum Laude Award from the Annual Meeting of the Imaging Network of Ontario, CIX TOP 20 (2017), Technology in Motion Best Toronto Startup (2018), Top Ten Startup at AutoMobility LA (2018), AquaHacking Challenge First Prize (2017), Best Student Paper at Ottawa Hockey Analytics Conference (2017), and the Alumni Gold Medal. He is the co-founder of DarwinAI, an award-winning AI company focused on accelerating deep learning development through explainable AI.
Topic:
Turning Data to Knowledge: A overview of digital health and artificial intelligence
Biography:
Kam is an impact-driven physician entrepreneur focused on integrating artificial intelligence with system biology as Imagia's Director of Clinical Strategy & Oncology.
Kam blends his medical degree and technology start-up background to ensure Imagia's innovation infrastructure translates seamlessly into AI-driven clinical benefits. He oversees all research projects with industry partners and research institutions that leverage the company's AI-platform, EVIDENS™. He focuses on growth strategy and product development, combining AI and digital therapeutics.
A former cancer immunology researcher, Kam's work focused on immuno-modulation and development of targeted immunotherapies, where he spent five years at UCLA in the Jonsson Comprehensive Cancer center.
After co-founding several technology start-ups in media and healthcare with successful exits, Kam sits as senior advisor at Aon3D, a Montreal based materials and 3D printing company and Y-combinator graduate.
Kam holds a B.Sc in Molecular, Cell, and Developmental Biology from UCLA, and a Medical Degree and training at McGill University.
---
Agenda
* 5:00 p.m. - 5:05 p.m.: Welcome
* 5:05 p.m. - 5:45 p.m.: Tools, Datasets and Best Practices for AI/ML Projects - Alexander Wong
* 5:45 p.m. - 6:00 p.m.: Q&A
* 6:00 p.m. - 6:20 p.m.: Imagia - Kam Kafi
* 6:20 p.m. - 6:30 p.m.: Q&A and Conclusion
---
This event is free of charge. Reserve your virtual seat today!
---