IEEE NZ North Section Lifelong Learning Series - December 2020
---
2020 Distinguished Lecture - Brought to you by PES NZ North Chapter
---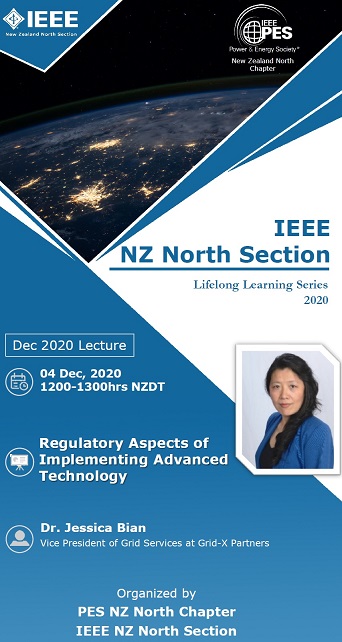 The IEEE NZ North Section Lifelong Learning Series is designed as a webinar series aimed at bringing in global experts and facilitate interaction with the members of the IEEE NZ North Section and wider NZ engineering fraternity. Each session will be organized by different societies under IEEE NZ North Section to ensure the diversity of the topics discussed.
Details of the upcoming session of the series brought to you by PES NZ North Chapter on 4th December are as follows:
Speaker: Dr. Jessica Bian
Vice President of Grid Services at Grid-X Partners, USA
Topic : Regulatory Aspects of Implementing Advanced Technology

Date : 4th December 2020
Time : 1200-1300 hrs NZST
(Scroll down for Abstract of the Webinar and Speaker Biography)
The Webinar will be immediately followed by a Fishbowl session from 1300-1330HRS NZDT to engage with Jessica and discuss on global energy career opportunities and challenges. Kindly Register here separately if you wish to attend the Fishbowl Session.
---
Date and Time
Location
Hosts
Registration
---
Date: 04 Dec 2020
Time: 12:00 PM to 01:00 PM
All times are (GMT+12:00) NZ
Add Event to Calendar
Online through "Zoom Meeting"
The link will be shared via email close to the event.
Auckland, North Island
New Zealand
---
Starts 25 November 2020 12:00 AM
Ends 04 December 2020 01:00 PM
All times are (GMT+12:00) NZ
No Admission Charge
---
Speakers

Dr. Jessica Bian
Topic:
Regulatory Aspects of Implementing Advanced Technology
Abstract of the Webinar:
Would deploying energy storage and/or other innovative technology alter business models and the utility of the future? We are experiencing significant changes in energy supply due to a number of factors, including the increased availability of natural gas; the growth in renewable, demand-side and storage technologies; and new environmental requirements. This lecture provides an overview of US federal regulation of public utilities, including rate revision, challenge process, and the landmark orders that shaped energy industries we have today. In addition, the lecture offers insights of why energy industries moved from traditional cost-based regulation to competitive markets in an open access environment, and how regulators encourage the use of advanced technology in new transmission projects. Advanced transmission technologies increase the capacity, efficiency, or reliability of an existing or new transmission facility while continuing to ensure that consumers have access to sustainable energy at a reasonable cost. Current regulations establish incentive/performance-based rates for the transmission of electric energy in interstate commerce by reducing transmission congestion, and stimulate investment in new transmission facilities.
Biography:
Dr. Jessica Bian is the President-Elect of the IEEE Power & Energy Society (PES). She is a visionary leader and architect, has spearheaded electric industry's reliability metrics and grid risk assessment. Currently she is the Vice President of Grid Services at Grid-X Partners. Before that, she was with the Federal Energy Regulatory Commission (FERC), Washington, DC. Previously, she was the Director of Performance Analysis at North American Electric Reliability Corporation (NERC) in Atlanta, Georgia. Under her leadership, a total of 18 industry-wide reliability indicators were established to determine grid reliability, adequacy, and associated risks. She is widely recognized as a pioneer and trusted world leader in the field.
Before joining NERC, Dr. Bian was with PJM, ERCOT and Westinghouse Electric. She earned her Bachelor degree in Electrical Engineering from the Taiyuan University of Technology, China; Master of Science from the Electric Power Research Institute, Beijing, China; and Ph.D. from Tulane University, New Orleans, Louisiana, USA. She was the PES Secretary from 2016 to 2019.
---