VTS: Maryland Statewide Transit Plan
---
The IEEE Vehicular Technology Society
ONLINE MEETING

Tuesday, February 16, 2021
---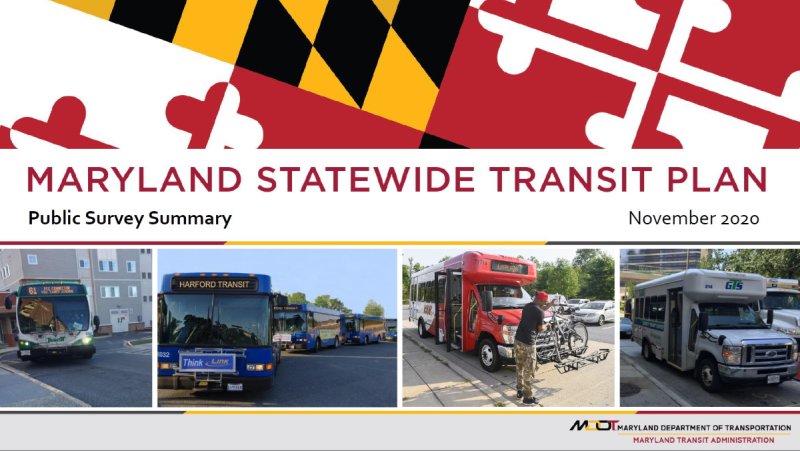 Winner of the IEEE Northern Virginia Chapter of the Year 2017
Winner of the IEEE Northern Virginia Chapter of the Year 2018
THE REGULARLY SCHEDULED VTS MEETING WILL BE HELD ONLINE
You will need a computer with speakers to watch the presentation. A microphone and webcam are optional but encouraged.
Cost: Free!
Please register by 5 pm Monday, February 15
Webinar login details will be provided by 10 am Tuesday, February 16.
Check the Chapter website for updates:
Speakers: Jaime McKay, MDOT MTA and Jade Clayton, MTA
Topic: Maryland Statewide Transit Plan
---
Date and Time
Location
Hosts
Registration
---
Date: 16 Feb 2021
Time: 12:00 PM to 01:30 PM
All times are (GMT-05:00) US/Eastern
Add Event to Calendar
Zoom log on credentials will be supplied prior to the meeting time.
Online meeting / webinar
Washington, District of Columbia
United States
---
Starts 30 January 2021 03:40 PM
Ends 15 February 2021 05:00 PM
All times are (GMT-05:00) US/Eastern
No Admission Charge
---
Speakers

Ms. Jaime McKay
of MDOT MTA
Topic:
Maryland Statewide Transit Plan
MDOT MTA is in the process of developing a Statewide Transit Plan (STP) to define public transportation goals and strategies for Maryland's rural, suburban, and urban regions. The Plan will create a 50-year vision toward increasingly coordinated, equitable, and innovative mobility with a dignified customer experience. This webinar will include an overview of the draft vision and goals of the plan, highlights from the public survey responses, and a summary of existing and projected trends impacting transit. More information on the Statewide Transit Plan is available at www.mta.maryland.gov/statewide-plan.
Biography:
Jaime McKay is a transportation planner at MDOT MTA with a passion for public outreach and engagement. Ms. McKay is adept at connecting with those who are often left out of planning processes and project implementation, and ensures that members of vulnerable populations, individuals with disabilities, and older adults are meaningfully involved with projects at all stages of development. In her free time, she enjoys taking photos of trains, cycling to breweries in beautiful downtown Frederick, Maryland where she lives, and she has a one-eyed cat named Linus.
Address:Baltimore, Maryland, United States

Ms. Jade Clayton
of Maryland Transit Administration
Biography:
Jade Clayton is a Senior Planner and Project Manager at the Maryland Transit Administration's Office of Planning and Capital Programming. She is part of a team of seven planners within the Project Development Division, working on a range of traditional facilities planning, public engagement, and strategic and regional planning efforts as well as integration of transit and emerging on-demand mobility and technology. Jade is currently working on the Statewide Transit Plan, ongoing planning to close the gap between MARC and SEPTA, and much more. Since Jaime is mentioning her cat in her bio, Jade would also like to add that she is a dog-person and enjoys city life, and the occasional respite to the mountains, with her two-eyed puggle Bob Wayne.
Address:Baltimore, Maryland, United States
---
Agenda
12:00 am - Social conversation
12:30 pm - Technical presentation & discussion
01:30 pm - Adjourn
-----------------------------------------------
IEEE VTS CHAPTER OFFICERS:


Chair: David (DJ) Johnson
Vice-Chair: Reg Mitchell
Secretary: Karl Berger, PE
Treasurer: Steve Bezner, PE
Cashier: Ken Briers
Program Committee: Heather Roman, Matt Nawn
Please help your VTS Chapter: If you would like to speak or have contact information for a speaker, please contact Heather Roman <hroman at omni-strategy dot com> or Matt Nawn <matthew.nawn at dot.gov>
---
Future Meetings:
March 9
April 13
May 11
TBD
---