Region 6 Online Student Design Competition
---
Region 6 Student Design Competition
---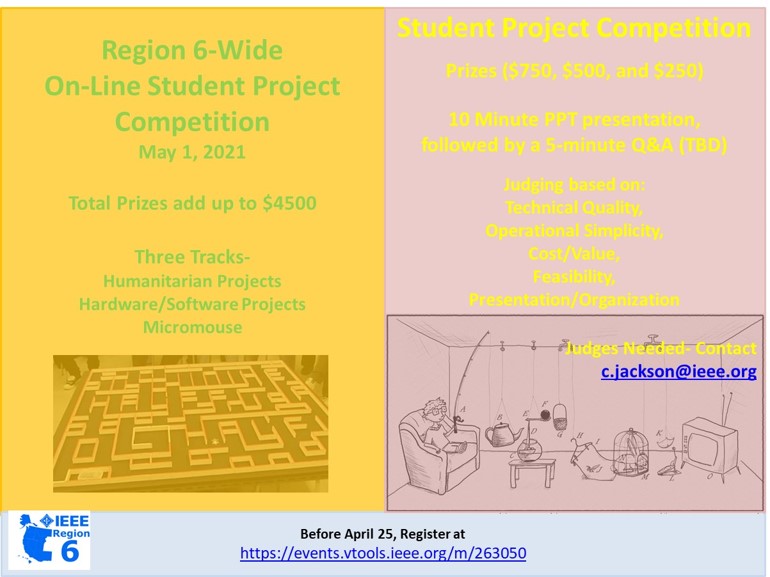 IEEE Region 6 Student Project Competition
Share what your project is about!
Prizes!
Three Tracks
Hardware/Software
Humaniarian
Micromouse
Live via Zoom
.
IEEE Region 6 Guidelines for Student Design Contest
Purpose
The IEEE Region 6 Student Design Contest offers undergraduate IEEE student members opportunity to exercise and improve entrepreneurial, product development as well as verbal communication skills. They will present an oral presentation via Zoom. The presentation will be 10 minutes with a 5 minute Q&A. There will be a Hardware/Software track, and a Humanitarian Track, and a Micromouse track.
Eligibility
Students must be members of IEEE or else complete and submit an application for membership in IEEE prior to entry in the Contest.
Registration
To advertise the competition and get an audience, the registration will close 10 days before the event.
The link for up to date information, and to register is https://events.vtools.ieee.org/m/263050
Prizes
The prize levels for all tracks of the Student Design Contest are: First Prize $750, Second Prize $500, Third Prize $250
There will have to be at least four entries in a track to hold the competition. Two tracks will be combined to get 4 or more teams, if needed.
If selected as one of the winning prizes, you will be provided with a US IRS tax form to fill out before you receive your prize.
Oral Presentation
Ten(10) minutes shall be allotted for the oral presentation as well as prototype demonstration and five (5) minutes for questions from the audience.
The paper contest chairman shall arrange a timing system, with the following characteristics:
(1) A Signal will be given at the beginning of the oral presentation.
(2) A warning signal will be given at the end of seven (7) minutes.
(3) A stop signal will be given at the end of ten (10) minutes.
(4) The contestant should cease talking when the stop signal is given. The contest judges will assess penalties for running overtime.
(5) The contestant will be stopped by the judges at the end of twenty (15) minutes if he continues past the stop signal.
Individuals asking questions during the discussion period shall use the chat feature. If the audience does not present any questions, the judges should do so. Questions will be stopped at the end of five (5) minutes.
PowerPoint slides shall be used for the concept presentation.
Judging
Each team presentation will be evaluated and judged on the basis of ten equally weighted judging criteria.
There shall be three (3) to seven (7) judges.
The judges shall be selected to represent a cross section of various disciplines in electrical, electronics and related fields of engineering. The Section and Regional SAC should be called on to assist in the selection of judges at all levels of the contest.
The judges should have a record of experience in written and oral communication skills.
---
Date and Time
Location
Hosts
Registration
---
Date: 01 May 2021
Time: 09:00 AM to 09:00 PM
All times are America/Los_Angeles
Add Event to Calendar
Online program
one space park
Redondo Beach, California
United States 90278
Starts 22 February 2021 08:46 PM
Ends 28 April 2021 12:00 AM
All times are America/Los_Angeles
No Admission Charge
---
---
Agenda
Agenda will be posted before the competition
---
Region 6 Student Design Competition
---