IEEE Oregon Section WIE Book Club Meeting
---
Please Register to Receive Invitation and Online Meeting Link, Thank You!
---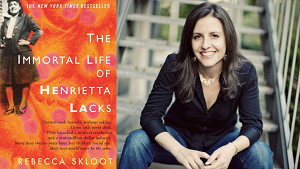 Women in Engineering read 6 books a year. Each title is given a two-month period in which to complete the manuscript. The WIE members meet online monthly to discuss and enjoy each other's perspectives. This book club event will be in collaboration with the Women Who Code Book Club.
---
Date and Time
Location
Hosts
Registration
---
Date: 21 Sep 2021
Time: 06:00 PM to 07:00 PM
All times are (GMT-08:00) US/Pacific
Add Event to Calendar
For more information and answers to your questions please email ~ Eve Klopf @ eve@ieee.org

Co-sponsored by

Heidi DeGarmo
Starts 24 February 2021 06:00 PM
Ends 21 September 2021 07:00 PM
All times are (GMT-08:00) US/Pacific
No Admission Charge
---
---
Agenda
Please join Women in Engineering for this month's book, The Immortal Life of Henrietta Lacks.
Her name was Henrietta Lacks, but scientists know her as HeLa. She was a poor Southern tobacco farmer who worked the same land as her slave ancestors, yet her cells—taken without her knowledge—became one of the most important tools in medicine: The first "immortal" human cells grown in culture, which are still alive today, though she has been dead for more than sixty years. HeLa cells were vital for developing the polio vaccine; uncovered secrets of cancer, viruses, and the atom bomb's effects; helped lead to important advances like in vitro fertilization, cloning, and gene mapping; and have been bought and sold by the billions. ~ Amazon Books



---
"Science journalist Skloot makes a remarkable debut with this multilayered story about 'faith, science, journalism, and grace.'…Recalls Adrian Nicole LeBlanc's Random Family…A rich, resonant tale of modern science, the wonders it can perform and how easily it can exploit society's most vulnerable people." ~ Publishers Weekly
---